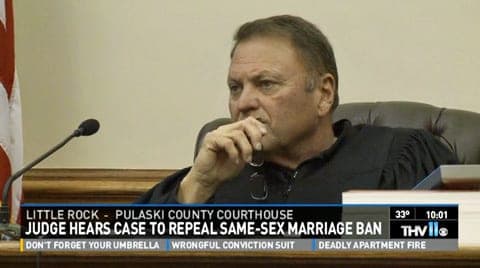 Arkansas Circuit Judge Chris Piazza has struck down the state's ban on gay marriage!
The Arkansas Times reports:
Circuit Judge Chris Piazza today invalidated the Arkansas ban on same-sex marriage and recognition of marriages legally entered by same-sex couples in other states. An appeal is expected. The judge did not stay his ruling, though the state probably can be expected to request a stay.
The order came after county clerks ofices closed for the week. But they can expect a flood of applicants Monday morning. Pulaski County Clerk Larry Crane said he'd be ready with software to issue gender-netural marriage licenses Monday morning
The lawsuit challenged both the state constitution and statutory bans.
An important question now is how quickly the appeal can be completed and decided by the Arkansas Supreme Court. The court takes a summer recess and briefing schedules can take months after the record of the case is completed.
Read the full ruling HERE.
The case was brought by 21 gay couples and one woman seeking a divorce from a woman she married in New York. The couples claimed that Amendment 83 to the Arkansas Constitution, passed in 2004, which defines marriage between a man and a woman, violates both the state and federal constitutions.
Arkansas Attorney General Dustin McDaniel this week said he personally supports marriage equality but plans to defend the state's ban in court.
Developing….