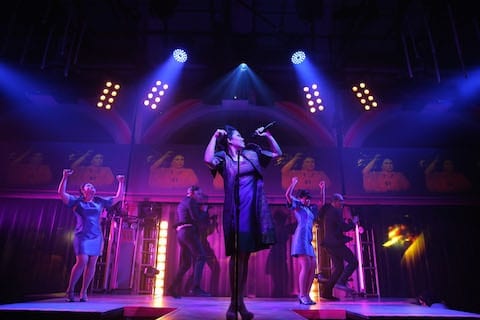 BY NAVEEN KUMAR
Despite its subject's penchant for designer heels, you'll want to don comfortable footwear for Here Lies Love, David Byrne and Fatboy Slim's immersive rock musical about Imelda Marcos, which returned to the Public Theater this month after a successful run there last season. Under the direction of Alex Timbers, the musical-cum-dance party pulses to its unrelenting beat like a well-oiled machine. Warning: If you're at all uncomfortable throwing your hands in the air like you just don't care, you'll get over it.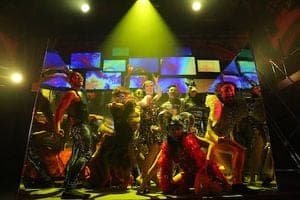 Adapted from the musicians' concept album of the same name, the musical tells of the rise and fall of the former Filipina First Lady, from her humble beginnings as a small-town beauty queen to imperious leader and totem of material excess. Whether you're wild for Imelda or know nothing about her, the show keeps you on your feet (literally), traversing touchstones of her personal and political history with danceable songs that are both emotionally and physically engaging.
More downtown disco than conventional theatre, the room is lined with stages along its perimeter, outfitted with a stellar sound system, a collage of screens and more than a few lasers. In the center, a rotating platform shifts positions throughout, as the story bounds from one corner of the room to the next.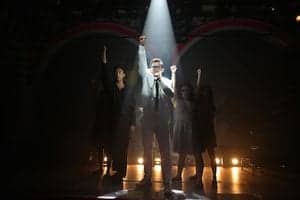 Byrne and Cook's visceral, emotionally driven score completes the show's maximum sensory immersion. Every song tells an essential part of the story, with club beats, clever poetry and an eclectic mix of influences that Talking Heads and Fatboy Slim fans alike will certainly recognize.
Returning to the roles they created in the Public's 2013 production, the company is uniformly excellent (and likely having the time of their lives). Ruthie Ann Miles is radiant as Imelda (to whom she bears an almost eerie resemblance), transforming from pretty young thing to persona non grata without losing a moment of sympathy. Jose Llana (as President Marcos) and Conrad Ricamora (as Imelda's former flame and political rival Benigno Aquino) each have a unique matinee idol quality and a magnetism that's hard to resist.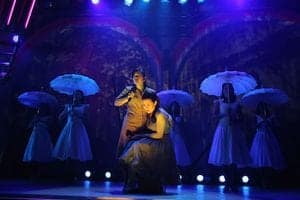 While exposing many of her shortcomings and hypocrisies, the musical celebrates Ms. Marcos and the glamour of her opulent lifestyle. Rather than passing judgment or offering a detailed history lesson, the creators are more focused on capturing the former First Lady's feelings—of falling in love, living in the fast lane, being betrayed—and recreating them on a teeming dance floor. Incorporating actual transcripts and recordings, the show presents a clear timeline and spans over 30 years in its 90 minutes.
While Evita may elicit a quiet tear, Hear Lies Love makes you feel all the feelings—with a rousing conclusion that ends with, yes, a dance party. If you have any doubt as to your fellow revelers' enjoyment, look around and you'll see their faces tilted up to the light—grinning from ear to ear.
Recent theatre features…
Hollywood Snubs and Men in Tights: Rounding Up the 2014 Tony Award Nominations
Alan Cumming and Michelle Williams Open On Broadway in 'Cabaret:' REVIEW
Daniel Radcliffe Opens on Broadway in 'The Cripple of Inishmaan:' REVIEW
James Franco and Chris O'Dowd Open On Broadway In 'Of Mice And Men:' REVIEW
Harvey Fierstein On Straight Men In Stockings And His New Broadway Play 'Casa Valentina': INTERVIEW

Follow Naveen Kumar on Twitter: @Mr_NaveenKumar (photos:joan marcus)