Gay Episocopal Bishop Gene Robinson is divorcing his husband of more than two decades, he announced today in a statement to the Diocese of New Hampshire and an accompany piece in The Daily Beast.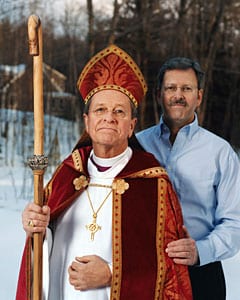 Said Robinson in a statement:
"As you can imagine, this is a difficult time for us — not a decision entered into lightly or without much counseling," Robinson wrote in a letter. "We ask for your prayers, that the love and care for each other that has characterized our relationship for a quarter century will continue in the difficult days ahead."
He added, in the Daily Beast:
As my marriage to Mark ends, I believe him to be one of the kindest, most generous and loyal human beings on earth. There is no way I could ever repay the debt I owe him for his standing by me through the challenges of the last decade. I will be forever grateful to him, and as I tell couples in pre-marital counseling, "Marriage is forever, and your relationship will endure—whether positively or negatively—even if the marriage formally ends."
Robinson adds that marriages face many difficulties, and both parties shoulder the burdens:
It is at least a small comfort to me, as a gay rights and marriage equality advocate, to know that like any marriage, gay and lesbian couples are subject to the same complications and hardships that afflict marriages between heterosexual couples. All of us sincerely intend, when we take our wedding vows, to live up to the ideal of "til death do us part." But not all of us are able to see this through until death indeed parts us.
My belief in marriage is undiminished by the reality of divorcing someone I have loved for a very long time, and will continue to love even as we separate. Love can endure, even if a marriage cannot. It will take a lot of work, a lot of grieving, and a large measure of hope to see it through. And that's where my faith comes in.