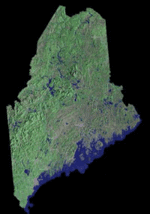 Remember waaaaaaay back when the National Organization for Marriage lost the fight in '09 to keep the names of their campaign donors hidden? And then lost again in '11? And then lost their appeal in '12? And how last year Maine's highest court ordered that the donor names be turned over?
The Maine Ethics Commission is now considering imposing financial penalites on NOM for their disclosure shenanigans to the tune of $50,250.
While $50k isn't a large penalty for an organization like NOM, which rakes in millions, it would be the largest fine ever imposed by the board and it would force NOM to finally disclose the names of their donors whom they have been trying so hard to keep cloaked, some of whom donated as much as $50,000 each. The board will reach their decision whether or not to impose the fine during their May 28th meeting.