Bangor Daily News: Maine's battle with NOM is worth it.

Cristiano Ronaldo puts on shirtless show in Champions League celebration.

NYC's iconic Chelsea Hotel to become boutique part of boutique chain: "Behind its wrought-iron balconies, an artistic who's who accomplished their triumphs and travesties: Dylan Thomas drank, Andy Warhol filmed, William Burroughs wrote, and Sex Pistols guitarist Sid Vicious stabbed his girlfriend Nancy Spungen to death."

VIDEO: One Direction's Zayn Malik and Louis Tomlinson get high in a van.

Flying saw blade from construction site in Hell's Kitchen hits pedestrian. Here's surveillance video.

Pittsburgh mayor to marry gay couples in June: "Mayor Bill Peduto said in a statement Tuesday that he would be 'thrilled to make the marriage of a LGBT couple' the first he officiates as mayor, 'and being able to share that moment with many others should make for an even more joyous celebration.' He plans to marry as many as 20 same-sex couples June 15 in downtown Pittsburgh as part of Pittsburgh PrideFest activities."

Chris Pine on facial hair: "I really like the ritual of shaving. I like getting the perfect brush and finding the right sandalwood soap. The act of shaving, though, is not fun. I like beards and the ease of them."

Wolverine is looking fit and bearded in Tokyo.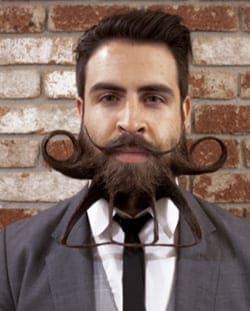 An Incredibeard success story.

Las Vegas betting on gays: "Vegas has done an incredible job at marketing themselves to the gay community," says David Paisley, senior research director at Community Marketing. "They've spent far more money on LGBT media than any other gay destination out there."

Out gay Pennsylvania Republican Mike Fleck loses GOP primary but will remain on the ballot as a Democrat.

Westboro Baptist Church targets D.C.'s Wilson High School, which is holding a Pride Day next month: "The second annual lunchtime festival will bring together more than 20 community organizations and government agencies that offer support and services for lesbian, gay, bisexual, transgender and questioning youth. Last year, students signed pledges to respect their LGBTQ colleagues, and Mayor Vincent C. Gray (D) showed up to demonstrate his support."

LISTEN: O-Town releases first single in 10 years.
C

an Lance Bass convince Lisa Vanderpump to stay?

5 immigrant rights protesters arrested after shutting down intersection in Santa Ana, California: "Calling on Santa Ana to end its jail contract with Immigration and Customs Enforcement (ICE), trans and queer immigrant activists shut down an intersection in the city yesterday morning. A symbolic cage set up on Civic Center Drive and Boyd Way housed those who staged civil disobedience as part of the action."

NOM allies produce disgusting video linking marriage equality to slavery, racism, segregation.

Trailer: River Phoenix's last, unfinished film Dark Blood.

Wisconsin Supreme Court rejects challenge to gay marriage law without comment: "A Milwaukee County couple, Katherine and Linda Halopka-Ivery, asked the high court to directly hear their lawsuit, which claimed Wisconsin was violating the U.S. Constitution by limiting marriage to one man and one woman." Meanwhile, the nation awaits a separate pending ruling…