Pope's crackdown on U.S. nuns continues…

Playbook: How to come out as gay in pro sports.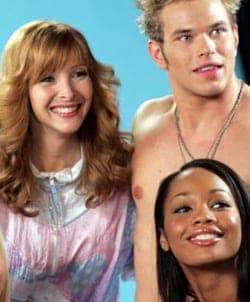 It's official: The Comeback is coming back. "Production will begin later this month in Los Angeles with Michael Patrick King (Sex in the City), Dan Bucatinsky (Scandal), and Kudrow all reprising their roles as executive producers."

Prince Harry twerked the night away at friend's wedding.

Arrow star Stephen Amell looked positively spiffy at the Kentucky Derby.

Hollywood Reporter pulls Women in Entertainment breakfast from Beverly Hills hotel: "The Hollywood Reporter has notified the Beverly Hills Hotel that it will not hold its annual Women in Entertainment breakfast there because of the hotel's ties to the Sultan of Brunei, who has instituted a severe new penal code based on Sharia law that calls for death by stoning for homosexuals and adulterers." Also the Oscars' "Night Before" party got pulled.

Bradley Cooper is turning into a full-on bear (in a tux).

While Jake Gyllenhaal is a white-jacketed bearded hipster.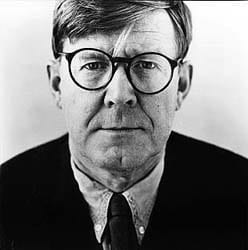 History Boys playwright Alan Bennett says he stayed in the closet to avoid being labeled: "My objection about people knowing more about one's private life was that I didn't want to be put in a pigeonhole. I didn't want to be labelled as gay and that was it. I just wanted to be my own man, as it were."

Kenyan film director Wanuri Kahiu: "homophobia is un-African, and that homosexuality is not."

Florida man pleads guilty to shooting trans woman six times after sex.

Gawker stands by Shepard Smith story: "Given Fox's reaction, however, we went back to our sources to confirm, in even greater detail, the timeline of events. And it turns out that Fox's other complaints, the full list of which was published by Politico's Dylan Byers, were little more than a smokescreen. The story stands. And we've learned even more about how Fox treats anchors who want to come out.

One Direction's management company is not happy about One Erection condoms.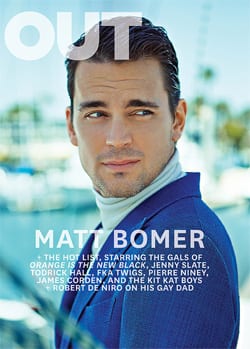 Matt Bomer covers OUT.

Trans pageant contestant makes history in New Zealand: "A transgender teenager has made New Zealand pageant history by competing in the national final of the Battle of the Babes beauty contest…Ms Brosnahan made it look easy, but it was anything but to get into the competition. Initially the 18-year-old, who has not had re-assignment surgery, was told she was not eligible. But after Ms Brosnahan complained to the Human Rights Commission, organisers relented."

Johnny Weir and Victor Voronov are back together: "My husband and I have happily reconciled. Please respect our privacy and integrity at this time."

World's oldest man is a New Yorker: "Mr. Imich was 10 months old when the Wright brothers invented machine-powered manned flight. Teddy Roosevelt, having assumed the White House upon the assassination of William McKinley, had yet to run for the presidency on his own. Mr. Imich remembers the first automobile in his hometown, fighting the Bolsheviks in the Polish-Soviet War, escaping the Holocaust and surviving a Soviet gulag. He then immigrated to the United States, finding time to master the computer and publish a book on the paranormal at 92."