The Daily Beast is reporting that Russian President Vladimir Putin has expanded his secret "black list" of Americans banned from Russia to include both senior Congressmen and top Obama campaign fundraisers tied to the LGBT community.
Sources say the expansion was in retaliation to the Obama administration's March sanctions on certain Russian officials over their involvement with the crisis in Ukraine. Among them was Yelena Mizulina, author of Russia's ban on 'gay propaganda.'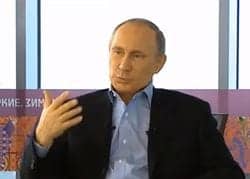 Diplomatic sources confirmed to The Daily Beast that the expanded and still-secret Russian sanctions list includes five top Obama campaign bundlers as well as about a dozen top Senators and Congressmen who were not included in the first list. The names of the specific bundlers remains a secret, but a focus was put on those with ties to the gay and lesbian community; it's a reflection of the ongoing fight between the Kremlin and the White House over Russia's laws punishing the promotion of LGBT "propaganda."
Because the Russian list is secret, the only way a bundler or lawmaker can determine if he or she is on the sanctions list is to apply for a visa to visit Russia. If the visa is rejected without explanation, the applicant is on the list. Early last year, well before the Ukraine crisis, Rep. Chris Smith discovered he was on Russia's black list when he applied for a visa. Smith has been a harsh critic of Russia's record on human rights.
Last week, the U.S. released a third list of Russian officials, businessmen, and institutions subject to sanctions