AP: Without fanfare, Obama advances transgender rights.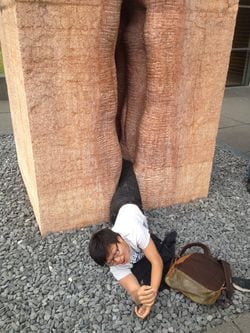 Man rescued after getting stuck inside large stone vagina artwork.

Conchita Wurst livens up the 2014 Christopher Street Day Stonewall Gala in Berlin.

Hundreds attend first gay pride event in Beaumont, Texas: "Hundreds of people from all over Southeast Texas and beyond marched down Broadway and Orleans streets Saturday for Beaumont Pride 2014. There were men dressed in drag, some wearing rainbow-colored outfits and some wearing very little clothing at all."

Grunge is officially dead: Pearl Jam performs "Let It Go" from Frozen.

David Sedaris is obsessed with the Fitbit: "I was travelling myself when I got my Fitbit, and because the tingle feels so good, not just as a sensation but also as a mark of accomplishment, I began pacing the airport rather than doing what I normally do, which is sit in the waiting area, wondering which of the many people around me will die first, and of what. I also started taking the stairs instead of the escalator, and avoiding the moving sidewalk."

New Wonder Woman to wear blue leather skirt rather than starred panties.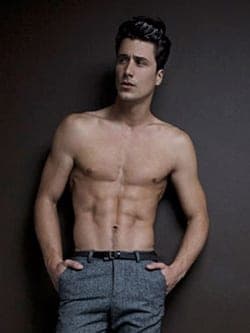 Male model fix: Jeremy Santucci.

Anderson Cooper buys historic Connecticut home: "Anderson Cooper and his partner, Benjamin Maisani, will be relaxing in historic splendor in Connecticut's affluent Litchfield County this summer. Multiple sources tell us the CNN anchor has splashed out on a massive, 10,127-square-foot Tudor revival stone mansion, called Rye House, for the mid-to-high seven figures."

Zambian gay couples's verdict delayed: "A Zambian gay couple charged over homosexuality saw the verdict in their case postponed for a second time on Monday after a magistrate failed to turn up, sparking anger among foreign observers."

Nespresso working on machine for Soylent-like drinks: "Quaintly code-named "Iron Man," the product is still years away from the completion, but the basic idea is that the machine will use consumer-specific data to formulate and dispense Über-multivitamins, in yummy drink form."

A white supremacist tried to make his message known at the World Cup.

Who gagged the search for MH370?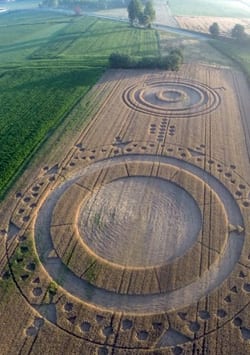 A new crop circle of great beauty.

David Barton says San Antonio's nondiscrimination ordinance has criminalized Christianity: "Barton falsely claimed Christians who oppose gay marriage or criticize homosexuality are now barred from running for office and, if already serving in office, would be removed from their position, charged with a crime, and fined $500 a day, while also asserting that Christian-owned companies are now prohibited from doing any business with the city."

Earth just had its warmest May on record: "Last month broke a temperature record, averaging 59.93 degrees Fahrenheit — a degree and a third (1.33°F) above the 20th century baseline…May 2014 was the 39th consecutive May that was warmer than average."

GOP frontrunner compares gay marriage to polygamy: "Marriage is something more for religion to decide," Republican front runner Pedro Celis said Thursday when asked about his stance on same-sex marriage at a GOP candidate forum, the Seattle Times reported. "Is this marriage or not? Polygamy—is it fine or not? It's a religion thing."