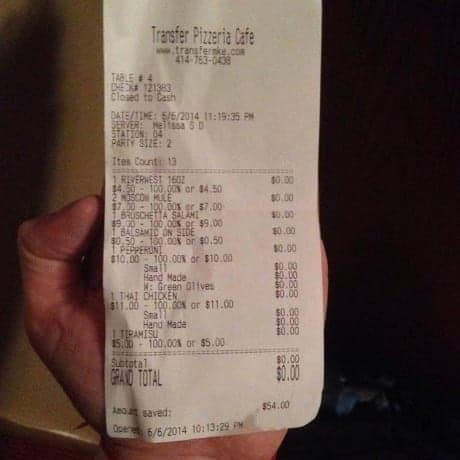 A gay Wisconsin couple likely weren't expecting to have the day they had last Friday. First, a judge ruled the state's ban on same-sex marriage unconstitutional. Second, they were married hours later. Third, the pizzeria they went to for their wedding dinner covered their entire bill. 
Christopher Graham and Andrew Capelle posted a photo on Facebook of their receipt from the Transfer Pizzeria and Cafe with a message thanking the staff:
Yesterday, my husband and I could legally get married in Wisconsin. After our ceremony (and staying to witness several others) we stopped in last night for dinner to celebrate. When the check came, our server, Melissa, told us that our bill had been taken care of by the staff. 

I just wanted to take a moment and thank you personally and publicly for the very kind gesture. It was an amazing day that we will never forget, especially how your restaurant and staff made it even more wonderful. Thank you!!
WISN reports that over 80 same-sex couples were married at the Milwaukee County courthouse after the ban was struck down.