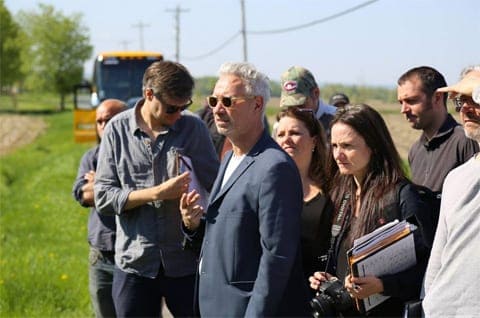 Emmerich scouting locations, via Facebook.
Roland Emmerich is currently shooting Stonewall, his film about the 1969 Stonewall Riots, in Montreal. Last night came news that Jonathan Rhys Meyers and Ron Perlman had joined the cast.. Emmerich talks to Entertainment Weekly about the film, its casting, and how he's recreating the time period.
Of shooting in Montreal, Emmerich says:
Nothing in New York looks like the '60s anymore, so we actually ended up with quite a big undertaking. We actually built part of Christopher Street and of the side of the Stonewall, just to be correct and how it really looked. Secondly, we do a lot of blue-screen. The movie ends with the first gay march, the gay liberation march in 1970, and that's not possible anymore. So we do the whole scene with special effects, like blue-screen. We shot [that] in modern New York and turn it into 1969.
Emmerich says that most of the characters are fictionalized:
We do have some historic characters [in the movie], but the interesting thing about Stonewall is that actually the people we know about that lived during that riot, most of them are dead because they died in the AIDS crisis. Most of these kids, nobody knows about them much. We only know from witnesses, guys who fought in, in some respect, what is the day of revolution.
And, in addition to the leads Jeremy Irvine, and Jonathan Rhys Meyers, he has cast many unknowns:
But in the main story, we also have two or three actors in it who have never, ever acted in a film. I'm totally excited because we did this enormous, long casting period, and you would not believe how hard that is. [We found] one in New York. One in Montreal. Another in Vancouver. A kid from Los Angeles. It's hard to find these kids, but it's been quite fun to discover new actors. You'll be amazed by the quality of these actors.
Read the full interview here.
In related news, New York's Lesbian, Gay, Bisexual & Transgender Community Center has a new online Archive exhibit called "Pride March—The Early Years" which features vintage photographs of the first 15 years of the Pride March in NYC.
We just wish the photos were larger.