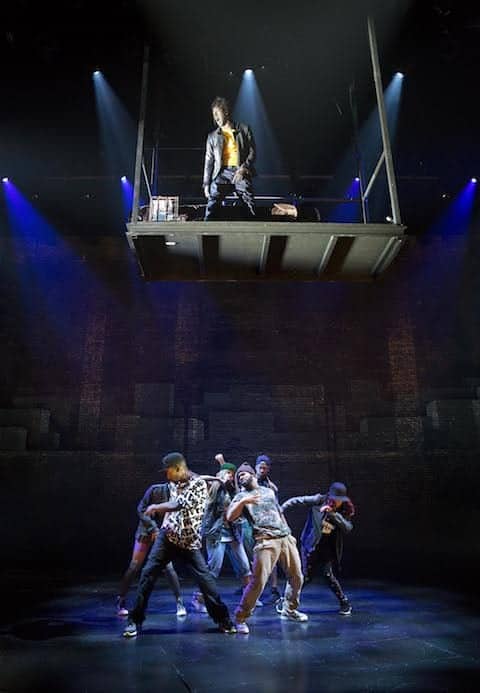 BY NAVEEN KUMAR
When you imagine what the words 'Tupac musical' could mean, you might think back on the colorful verve of '90s music videos, the rags-to-riches stories that dominate their soundtracks and find yourself hoping for a big-ticket nostalgic trip down the mean streets of L.A. You'll find precious few of your (modest) hopes realized in Holler If Ya Hear Me, the surprisingly stagnant and flimsily strung together musical that opened on Broadway last week at the Palace Theatre.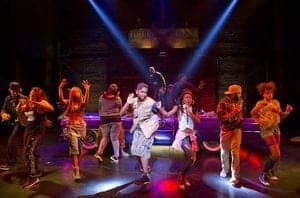 Rather than trace the iconic rapper's rise to fame and tragic early death, the show's creators choose to tell an original story (that's anything but) about a thinly sketched ensemble of characters struggling against poverty, violence and racial tensions in their unspecified Midwestern city.
In the tradition of jukebox musicals like campy Mamma Mia!, the primary objective of Holler's watery plot is to string together as many Tupac songs as possible in its two-and-a-half hour run time. But in place of the former show's knowing wink (or any other gesture of the kind), the material is presented here with an earnestness that only amplifies its abundant clichés.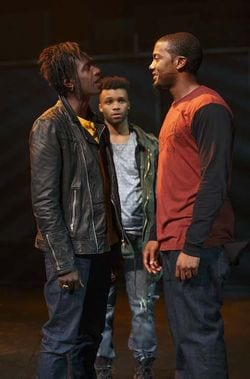 Shakur's songs have a singular sort of gritty, poetic eloquence, many of them broaching the same theme from different angles: man vs. the system—the struggle, its cyclical nature, the impossibility of escape and inevitability of violence. While they add up to a thrilling body of work, combining them into a dynamic story proves difficult. Not only do many of the show's numbers feel like the same sentiments repeated multiple times over, their quick-spinning rhymes do little to move the meandering plot forward, such as it is.
That story, by book writer Todd Kreidler, concerns John (skillful vocal stylist Saul Williams), who has just been released from prison (on what charges it's unclear). His ex-best bud Vertus (a moderately hunky Christopher Jackson) seems to have moved in on John's sometime girlfriend Corinne (Saycon Sengbloh) while John was locked up. In an early scene, Vertus finds out his brother's been shot and the rest of the story hinges on a vague desire for revenge shared by the whole neighborhood. Tonya Pinkins plays Vertus' mother, a character whose backstory is mined wholly from the song "Dear Mama."
While its music is filled with lyrics about drugs, sex and violence, Holler is remarkably sober and chaste—its characters hardly reach first base and there's not  a drop of booze in sight until its final scenes—further accentuating how disjointed its songs are from the story they're supposedly telling. Still, the talented cast does its best to create the world of those songs, and comes closest to doing so in dance.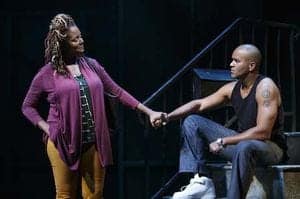 Choreography by Broadway vet Wayne Cilento packs the sort of visceral, kinetic energy the show otherwise lacks, making a much-anticipated "California Love" the evening's clear highlight. But its dance breaks are too sporadic to lift the show from its drudgery and most numbers peter out with little flourish.
Tony winning director Kenny Leon (A Raisin in the Sun) has a glittering track record of skillfully told narratives of black America, and Shakur's pop poetry would seem like an exciting voice to share with Broadway audiences—and in many ways, it is. Perhaps it's to his credit that Leon doesn't offer an elaborate production, as Tupac's lyrics carry powerful messages on their own. But their restless artistry is blunted here, and the larger story they come together to tell doesn't resonate as the songs do on their own.
Recent theatre features…
Trans Rockers, English Gents and LBJ: 2014 Tony Awards Roundup
David Byrne and Fatboy Slim Musical 'Here Lies Love' Returns Off Broadway: REVIEW
Hollywood Snubs and Men in Tights: Rounding Up the 2014 Tony Award Nominations
Alan Cumming and Michelle Williams Open On Broadway in 'Cabaret:' REVIEW

Follow Naveen Kumar on Twitter: @Mr_NaveenKumar (photos:joan marcus)