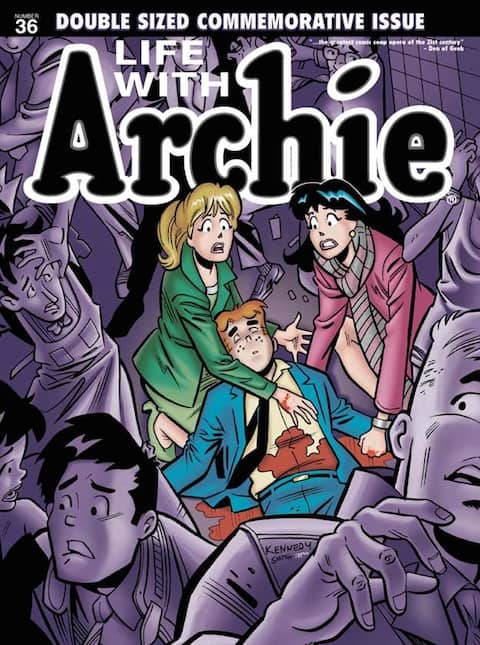 Archie Andrews takes a bullet during an assassination attempt on his gay friend Kevin Keller in the final installment of 'Life with Archie' which hits newsstands this week. Andrews' death was announced in April, the AP reports.
"The way in which Archie dies is everything that you would expect of Archie," said Jon Goldwater, Archie Comics publisher and co-CEO. "He dies heroically. He dies selflessly. He dies in the manner that epitomizes not only the best of Riverdale but the best of all of us. It's what Archie has come to represent over the past almost 75 years."
'Life with Archie' features grown-up versions of the Riverdale gang:
In "Life with Archie," Keller is a married military veteran and newly elected senator who's pushing for more gun control in Riverdale after his husband was involved in a shooting.
Writes Archie Comics of the issue:
History is in the making in this epic finale to the acclaimed series LIFE WITH ARCHIE, as America's most beloved character makes the ultimate sacrifice to save a friend. The unthinkable happens: Archie Andrews dies! Fans will experience an epic tale of Archie's future sure to make headlines, generate discussion and stand as one of the most-talked about Archie stories of all time. Do not miss this game-changing tale of love, friendship and true heroism. This double-sized issue combines all the material from Life with Archie comic issues #36 & #37.