Back in January, the Minnesota Vikings announced it had hired attorneys to lead an investigation into claims by former punter Chris Kluwe, who said in an article published on Deadspin that he was released from the team because of his gay activism.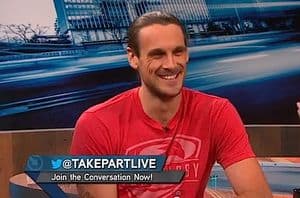 Kluwe also claimed that special teams coordinator Mike Priefer unleashed a homophobic rant in his presence, saying, "We should round up all the gays, send them to an island, and then nuke it until it glows."
At the time, Kluwe said that he would sue the Vikings if the investigation turned up clean. But today Kluwe and his attorneys announced they would be suing the team for refusing to release the results of the recently-completed investigation, Pioneer Press reports:
"After the Vikings were given the investigative materials from Magnuson and Madel, in order to further maintain objectivity and integrity, the team engaged a nationally-prominent law firm — Littler Mendelson P.C. — to evaluate employment law matters and provide findings and recommendations to the Vikings," according to the team's Tuesday statement. "Those recommendations are to be provided to the team this week."
Kluwe and Halunen held a press conference Tuesday morning to announce the lawsuit and denounce the team for reneging on what they said was a promise to make the investigation public.
Halunen said he was contacted by Vikings' representatives on Monday and was told they do not intend to make the report available either to Kluwe or to the public.
"At this point we have no choice but to file a lawsuit against the Vikings," Halunen said.
Kluwe told reporters that if the investigation results are released he will reconsider the lawsuit.