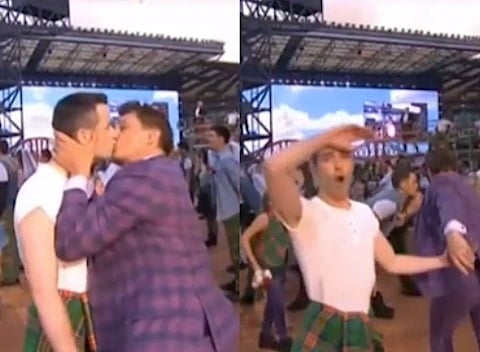 John Barrowman stole the show at the opening ceremony of the Commonwealth Games last night, by kissing a man:
The gay embrace has been hailed as a snub to homophobia in Commonwealth countries which criminalise homosexuality. The openly gay Doctor Who actor kissed his male "bride" at a mock Gretna Green during the showcase at Celtic Park, Glasgow, last night.
It was an act that flew in the face of anti-homosexual legislation in 42 out of the 53 Commonwealth countries represented at the games.
Those countries include Jamaica, Nigeria, and Uganda.
Watch, AFTER THE JUMP…
UPDATE: Barrowman was the target of attacks on social media following the kiss. He responded:
I am retwtin the neg because I want u all to see how bitter and Nasty and Neg some people r:) I am so happy right now. Jb

— John Barrowman News (@Team_Barrowman) July 23, 2014
I'm Scottish and u can never take that away no matter what your politics are. Bitterness makes u ugly and old very fast:) happy jb

— John Barrowman News (@Team_Barrowman) July 23, 2014