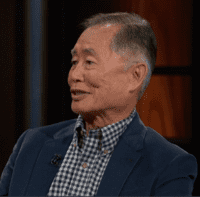 George Takei took some time out of his busy schedule of being generally awesome to stop by Bill Maher's Real Time hot seat last Friday to talk about the gay-themed episode of Star Trek that never was. Takei, who was not publically out as a gay may while he was playing the role of Hikaru Sulu, claims that the cast and crew of the hit series were very well aware of his sexuality.
"But they were cool about it," Takei explained. "Because they [knew] that if they made a public statement about it or made it very obvious then my career would be destroyed."
Star Trek, known for pushing the conversation about a number of social issues forward through the use of allegory, wasn't quite ready for a plotline dealing with homosexuality, Takei said. Star Trek creator Gene Roddenberry, to whom Takei pitched the idea, feared that in pushing the envelope too far, the show might run the risk of being cancelled and losing its ability to make any kind of social commentary.
Check out a clip for Takei's new documentary To Be Takei about his life on Star Trek and a gay cultural icon AFTER THE JUMP…