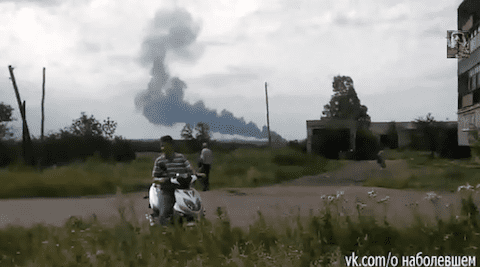 A Malaysia Airlines Boeing 777 jet, MH17 from Amsterdam to Kuala Lumpur, with nearly 300 people aboard has reportedly crashed in Ukraine. Malaysia Airlines has confirmed the incident.
Reuters reports that Interfax says the jet was shot down at an altitude of 10 km (33,000 feet).
Unconfirmed videos circulating on social media show a plume of smoke rising from fields.
Watch, AFTER THE JUMP…
Malaysian airliner did not enter Russian airspace when expected, crashed in Eastern Ukraine: Russian aviation industry source tells Reuters

— Reuters Top News (@Reuters) July 17, 2014
#BREAKING: Malaysian plane was brought down by a ground-to-air missile: Interior Ministry adviser, quoted by Interfax

— Reuters Top News (@Reuters) July 17, 2014
BREAKING: Adviser to Ukraine's Interior Minister says passenger plane carrying 295 shot down.

— The Associated Press (@AP) July 17, 2014
UPDATE via Guardian:
Interfax news agency has quoted leaders of the self-declared Donetsk people's republic denying that the rebels shot down the Malaysian airlines plane. A reported member of the republic's security council said the rebels only have weapons able to shoot down a plane at 3,000 metres and blamed Ukrainian military forces for the attack. (The plane was reportedly flying at 10,000 metres).
But officials from Ukraine's defence ministry and national security council said the rebels have Buk surface-to-air missiles able to shoot down planes at such elevations and suggested one was used in the attack.
Live updates HERE.
Info on the Buk missile launcher, developed by the former Soviet Union, here.
There are reports that 23 U.S. citizens were aboard the plane.