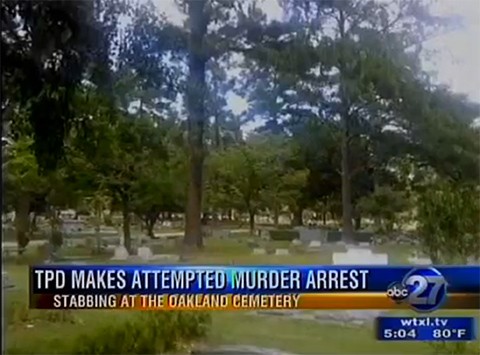 This is not your True Blood recap, but it may sound like it.
After meeting in a Tallahassee, Florida cemetery at 11:00 at night for a sexual rendezvous, a man was stabbed five times by his would-be lover. WXTL reports that the encounter, which took place on June 24, took a bad turn as soon as the assailant mentioned the victim's ex-boyfriend: 
The victim said it was during "sexual activity" that Johnson mentioned the victim's ex-boyfriend and then started stabbing him.
Court records show that Johnson told the victim "no one would have to worry" about him anymore.
Law enforcement says the victim was able to kick Johnson out of the car and lock the doors. However, Johnson attempted to get back into the car by gaining access through a slightly open window, the victim told police.
The victim was able to escape and drive off, crashing through the cemetery's fence at the intersection of 4th Ave. and Martin Luther King Blvd.
The victim was taken to the hospital for treatment of his wounds. According to the police report, there were a total of five stab wound; three to chest and one in each arm.
The victim required surgery for his wounds as he suffered internal injuries as a result of the stabbing, mainly a punctured lung and lacerated liver. The assailant, 18-year-old Devante L. Johnson, was later arrested for attempted murder.
Watch a news clip on the harrowing night at the cemetery, AFTER  THE JUMP…