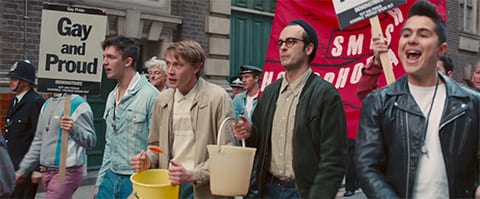 Set for release in September, culture clash comedy Pride tells the true story of lesbian and gay activists who supported workers during the 1984 National Union of Minerworkers (NUM) strike.
The activists decide to raise money to support the families affected by the strike. When the NUM decides not to accept the money, the fundraisers go straight to the miners and their families in a small Welsh village.
Screened during the directors' fortnight section at this year's Cannes Film Festival, the movie stars Bill Nighy, Imelda Staunton, Dominic West, and Sophie Evans.
The director's fortnight was the springboard to success for Billy Elliot.
Watch the trailer for Pride, AFTER THE JUMP…