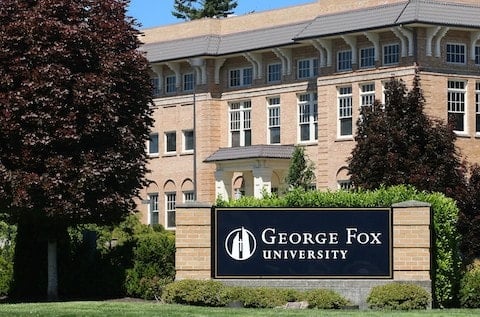 Oregon's George Fox University — the Christian school that used a Title IX religious exemption to bar a trans male student from residing in a men's dormitory — has revised its policy to let trans students live in the dorms as long as they have undergone sex reassignment surgery.
Noting that the university's student health plan excludes sex reassignment surgery, Zack Ford from Think Progress points out the other shortcomings of George Fox's "compromise":
… many transgender people choose not undergo surgical changes to their bodies, either because they cannot afford it, because they do not wish to sacrifice their reproductive ability, or because they simply do not feel it is a necessary step to realize their gender identities. The National Transgender Discrimination Survey found that at most, a quarter of trans people had already had some form of genital surgery, though many more wanted to someday. In turn, the World Health Organization recently condemned any policy that requires transgender people to undergo sterilizing surgery in order to obtain legal recognition…
Ford has also noted that the school orginally offered to house the student in a single apartment near campus, and that the school's policy defines "common residence halls" as "single-sex, defined anatomically." Makes you wonder if they're checking the bust-size and genitals of everyone who applies.
One year ago, the U.S. Department of Education stated that Title XI granted trans students access to accommodations like bathrooms, locker rooms and dorms. However, the religious exemption allows schools like George Fox University and the Cal Baptist nursing school to discriminate against and even expel trans students under the guise of "religious beliefs."