Ford Nation: This is a crime. #topoli pic.twitter.com/SSUexuRqcJ

— Daniel (@DanFmTo) July 26, 2014
Ford Fest, Toronto mayor Rob Ford's annual barbecue celebration, turned ugly yesterday when gay right supporters were both verbally and physically attacked in the city park in which the event was held.
The CBC reports:
About six demonstrators protesting what they called Ford's homophobia turned up at Thomson Memorial Park in Scarborough, holding signs that called for the mayor's departure from office.

"He needs to be held accountable," said Poe Liberado, who faced loud jeers from Ford fans. "His buffoonery is dangerous, his positions are dangerous and he needs to be taken seriously."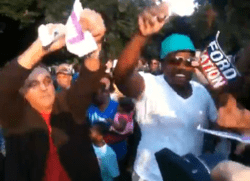 The mayor's supporters, however, weren't pleased with the anti-Ford sentiment, with a number of individuals getting into verbal confrontations with the protesters.

At one point, a few Ford fans grabbed the signs being held by the protesters, tore them up, and threw them on the ground, stamping on them in the process. One man claims to have been assaulted. Toronto police said they are investigating the matter. 

"Go home," they yelled. "This is Ford Nation!" One man claims to have been assaulted. Toronto police said they are investigating the matter.
Just two weeks ago, Ford cast the lone dissenting vote for a proposal that would support homeless LGBT youth.
There's video of yesterday's violent incident in which Ford supporters assure the gay rights demonstrators with things like "We don't have anything against you guys. We just have different morals." They then proceed to destroy their pro-LGBT signs and repeatedly chant "Ford Nation." Watch, AFTER THE JUMP.
Also, AFTER THE JUMP, is a Global News segment in which gay rights demonstrators describe yesterday's attacks which include one man who was shoved and struck on the head. A Global News reporter asked Ford about the assaults but the mayor has refused to comment.