Director Mike Buonaiuto's latest project, Credence, wants to bring a different kind of story featuring LGBT characters to the big screen. While the film revolves around queer characters, Buonaiuto wants to tell a story that resonates with everyone.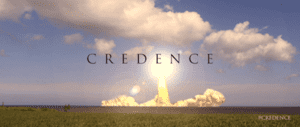 "Credence has a universal message that in any kind of tragedy it's important that couples come together and support one another," said Buonaiuto in a press release.
The film's premise is a straightforward one. Amidst a series of cataclysmic, world-destroying storms, the world's remaining population has turned to evacuating the planet. With limited capacity to transport people to a new, life-sustaining world, only children with the means of affording expensive tickets are permitted to evacuate. Credence follows two fathers' desperate race to sacrifice everything and save their daughter.
Buonaiuto and his team are currently raising funds via IndieGogo to complete production.
"[W]ith everyone's help we can finish the full film and show the world what it looks like when Sci-Fi is supports equality."
Watch the Credence trailer AFTER THE JUMP…
You may recall Buonaiuto's work from his super-viral video for UK marriage equality called "Homecoming" or from his work with the activist group AllOut in two short films – "Invisible Parents" and #LoveAlwaysWins.