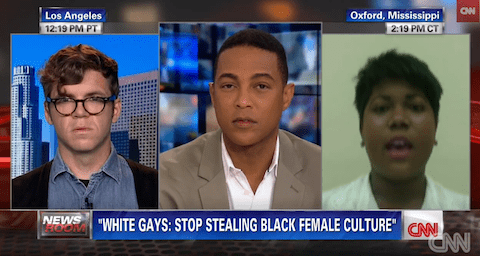 University of Mississippi senior Sierra Mannie appeared on CNN Newsroom to discuss her article Dear White Gays: Stop Stealing Black Female Culture that TIME Magazine republished earlier this week. In a conversation with host Don Lemon, a gay black man, and comedian H. Alan Scott, a gay white man, Mannie defended her piece, pointing out that she was chiefly concerned with appropriation of expressly black, female culture.
"I wasn't talking about gay behavior, or like this idea that certain things are gay." Mannie explained. "What I'm talking about are stereotypical black behaviors–coming up to me and calling me Shanaynay, or trying to talk to me when my hair was natural, that's different."
Scott, who penned an oppositional response to Mannie in Thought Catalog, took the Mississippi student to task on those points in her piece he felt were reductive and belittling to gay men.
"Culturally we have a right to communicate in ways that is not offensive." Scott asserted. "We have to acknowledge the historical context here that many of the mannerisms that you spoke of in your article actually come from gay culture like Paris Is Burning, like Boys in the Band."
Lemon, whose track record of discussing race on his program has left much to be desired in the past, split the difference between the two writers and elucidated one of Mannie's more controversial statements.
"I know that there is a similarity in [gays, transgender, and questioning] people being discriminated against." Lemon asserted. "It's not the same as being an African American."
Watch the full segment AFTER THE JUMP…