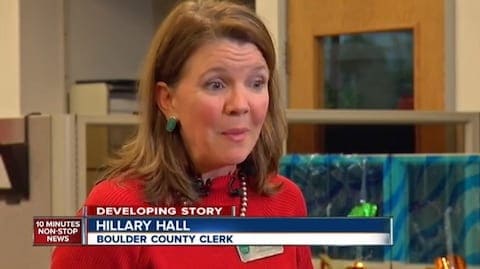 Yesterday, six Colorado couples filed a federal lawsuit challenging the state's ban on same-sex marriage.
The state voted to ban same-sex marriage in 2006.
The lawsuit, which states that Colorado "unlawfully denies the issuance of marriage licenses, and refuses to recognize the marriages of certain couples, based solely on the sex of the persons in the marriage union," comes during an ongoing battle in the state on the issue of gay marriage.
The plaintiffs are Catherine Burns, Sheila Schroeder, Mark Thrun, Geoffrey Bateman, Rachel Catt, Cassie Rubald, Breanna Alexander, Stacy Parrish, Angela Cranmore, Julianne Deloy, Karen Collier, and Denise Lord.
According to ABC 7 News Denver, the lawsuit, which names Governor John Hickenlooper, Colorado Attorney General John Suthers, and two county clerks as defendants, follows the 10th U.S. Circuit Court of Appeal's decision to strike down Utah's ban on same-sex marriage.
Following this decision, on June 25, Boulder County clerk Hillary Hall decided to begin issuing marriage licenses to same-sex couples.
Speaking to The Denver Post, Catherine Burns said that "most families in Colorado do not want this discriminatory law on the books."
The Court of Appeal ruling states that the Fourteenth Amendment "protects the fundamental right to marry, establish a family, raise children, and enjoy the full protection of a state's marital laws. A state may not deny the issuance of a marriage license to two persons, or refuse to recognize their marriage, based solely upon the sex of the persons in the marriage union."
According to Mari Newman, whose firm is representing the six couples:
"From a legal perspective, this case really ought to be a slam dunk and it's not often that lawyers get to say that. But here the 10th Circuit has been absolutely clear."
In June, Judge C. Scott Crabtree presided over two cases which argued that the gay marriage ban violates the U.S. Constitution, according to ABC 7 News Denver. Crabtree has yet to issue a ruling.
Watch the ABC 7 News Denver report on the new lawsuit, AFTER THE JUMP…