Utah Attorney General Sean Reyes won't ask for an en banc (all the justices rather than a three-judge panel) Tenth Circuit appeal of the Kitchen v. Herbert ruling striking down Utah's gay marriage ban. He plans to appeal directly to the U.S. Supreme Court.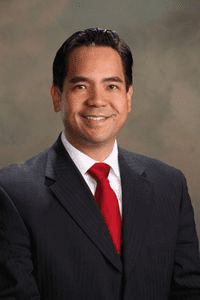 The AG's statement, via Fox 13 Salt Lake City:
"To obtain clarity and resolution from the highest court, the Utah Attorney General's Office will not seek en banc review of the Kitchen v. Herbert Tenth Circuit decision, but will file a Petition for Writ of Certioari to the United States Supreme Court in the coming weeks. Attorney General Reyes has a sworn duty to defend the laws of our state.  Utah's Constitutional Amendment 3 is presumed to be constitutional unless the highest court deems otherwise."
Writes Lyle Denniston at SCOTUSblog:
This will be the first case reaching the Supreme Court on the constitutionality of such state bans since the Justices in United States v. Windsor a year ago struck down a key part of the federal Defense of Marriage Act — a ruling that set off a series of decisions by federal and state trial courts, all of which so far have nullified state bans on same-sex marriages.  The Tenth Circuit was the first federal appeals court to issue such a decision…
…With the case going to the Justices via such a petition, the Court will have complete discretion whether to review the Tenth Circuit ruling, or pass it up.  Utah officials are almost certain to argue that the Court should take up the issue promptly based on the argument that there is now a conflict among federal appeals courts on the constitutionality of such bans.
…The Supreme Court has seen the Utah same-sex marriage issue before.  In January, the Justices issued an order temporarily blocking a federal trial judge's ruling against the state ban, pending review of the case by the Tenth Circuit.  That review then went forward, with the three-judge panel splitting two to one on June 25 in finding the ban unconstitutional.
The panel, however, has put its decision on hold, and said it would remain suspended until the state had a chance to take the case to the Supreme Court.  Wednesday was the final deadline for Utah to ask the Tenth Circuit to rehear the case en banc, and the state has now chosen not to do that.