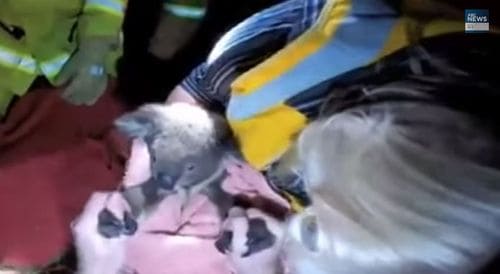 Sean, as this adorable koala has been subsequently nicknamed, was recently hit by a car while crossing a road in Melbourne and quickly scurried up a tree before passing out from injuries. Firefighters safely brought the marsupial down with a blanket and an wildlife rescuer on the scene proceeded to administer CPR to the little guy.
The entire rescue was filmed, which you owe it to yourself to check out AFTER THE JUMP…
You'll hear in the video the rescuer call the koala Sir Chompsalot – a well-known local koala that rescuers initially assumed was this little guy.
Maybe we can call this one Sir Chompsalot the Second? I think I like that better than Sean.