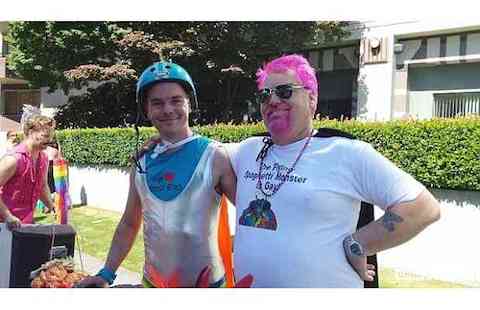 For as much as they claim to be about spreading the love of the gospel and hope of Jesus Christ to the fallen, anti-gay wingnuts really seem to put a lot of effort into trolling. Crazy person Bill Whatcott, whom you may remember being "oppressed" alongside Peter LaBarbera at Canada's University of Regina, decided to crash Pride in Vancouver to spread his message of hate. Feeling that the ninth commandment – "Thou shalt not bear false witness" – was more of a suggestion than a command, he dyed his hair pink and went under the pseudonym "Matthew Davidson" to hand out "condoms" that were really anti-gay screeds in disguise.
Only one person actually opened a condom in the presence of "Davidson" and his cohorts. When she became visibly distressed at the bait and switch, Joe Jervis points out that they continued "lying for Jesus" and told the woman that he mistakenly handed her something that he himself had earlier been handed by some homophobe at the parade.
So not only is Whatcott a vile homophobe, he's a coward to boot, unwilling to stand by his convictions when face-to-face with someone in public. And it's actually kind of wonderful. The more spineless lunatics devoid of all integrity on their side, the better. Much like Westboro, it removes the mask of civility from the ugliness of the hate and exposes it for the world to see, and that will only benefit proponents of equality in the end.