On Monday, hundreds of LGBT Nepalese marched through the streets of Kathmandu to celebrate the country's continuing progress on gay rights and to participate in Gaijatra – a colorful Hindu festival. 
The AP reports: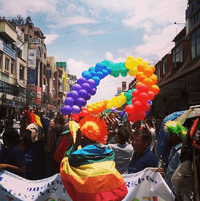 In this socially conservative Hindu-majority nation, the festival was traditionally the only day people felt free to cross-dress. But social norms are changing fast as this fledgling Himalayan democracy emerges from centuries of religious monarchy.
A government committee is recommending same-sex marriage be guaranteed in a new constitution — an unprecedented move that would give gay and lesbian couples the right to adopt, buy joint property, open joint bank accounts and inherit from one another. All of the country's political parties have already backed the idea, and many within the small gay community hope the new constitution can be passed this year. […]
"We have come a long way, but it is time we finally legalize same-sex marriage," said Monica Jha, who heads the Blue Diamond Society credited with organizing rallies and lobbying political parties for the change. The group's founder became Nepal's first openly gay legislator, while the group has also opened a travel agency for gay tourists advertising wedding and honeymoon packages on Mount Everest, the world's tallest peak.
In 2007, Nepal became the first South Asian nation to decriminalize homosexuality. Recently, however, Justice Minister Narahari Acharya announced he would seek to enact new anti-gay laws re-criminalizing homosexuality. 
[photo via Instagram]