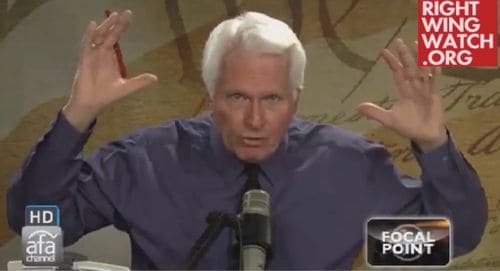 The American Family Association's reigning king of nonsense Bryan Fischer took to the airwaves with a new batch of offensive vitriol last week. Citing Sodom and Gommorah, "pagan armies," Israelites, and other Old Testament buzz words, Fischer worked to convince listeners that the United States would meet horrific ends at the hands of radical Islamic groups should our tolerance of "debauchery" continue. With the recent outburst of violence from ISIS, it seems that Fischer spotted a winning opportunity for religious and moral generalization.
Right Wing Watch reports:
Asserting that the people of Sodom and Gomorrah are "just like the Gay Gestapo is today" and that America is celebrating behavior that God calls an abomination while persecuting those who stand for God's values, Fischer warned that "God eventually is going to run out of patience with the United States."
And when that day comes, he said, God "will use pagan armies to discipline his people if they turn from him in rebellion and disobedience and descend into debauchery," pointing to the rise of ISIS to raise the possibility that "God will use the pagan armies of Allah to discipline the United States for our debauchery."
Watch as the hate spilleth over, AFTER THE JUMP…