Jeff White of Walls, Mississippi came out to his family in 1996 while still a student at Bethel Baptist School. His family in turn went to the church to try and figure out what to do, and the church promised that they could "cure" White of his homosexuality. This cure, evidently, consisted of attempting to rape the gay out of him.
According to White, teacher Steven Barnes was his conversion therapy counselor, and his preferred method of treatment was to rape and sexually assault White "to convince him that being gay was more painful than suppressing his sexual orientation." White dealt with ten years of emotional damage and turmoil from enduring three years of brutal "therapy", but is speaking up now in response to the National Center for Lesbian Rights' #BornPerfect campaign and its attempt to end conversion therapy in the next five years. Said White,
After growing older and witnessing so many who are still harmed by the church and by efforts to correct homosexuality through traumatic and damaging tactics like the ones used against me, I finally realized that it is my duty to stand up against those who have harmed me. By speaking out against the wrongdoings that were committed within the walls of Bethel Baptist School, I hope to shed light on the darkness that is so easily hidden within the church, and to help ensure that no one else suffers the pain that I had to endure.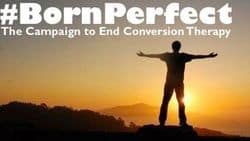 NCLR helped White file a complaint with the DeSoto County Sheriff's Department against Bethel Baptist School. White is now the executive director of the Mississippi Gulf Coast Rainbow Center, the first LGBT center in the state. Barnes is now the Assistant Pastor at Bethel Baptist Church in Walls, MS.
In June, NCLR launched the #BornPerfect campaign to protect LGBT kids from the harms caused by attempts to change their sexual orientation or gender identity.