A federal judge in Florida has struck down the state's ban on same-sex marriage, becoming the first federal judge to do so.
Four state judges have already issued rulings against Florida's gay marriage ban.
The AP reports: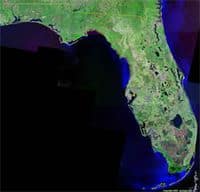 U.S. District Judge Robert L. Hinkle in Tallahassee ruled that the ban added to Florida's constitution by voters in 2008 violates the 14th Amendment's guarantees of equal protection and due process. Hinkle issued a stay delaying the effect of his order, meaning no marriage licenses will be immediately issued for gay couples.
Hinkle, an appointee of President Bill Clinton, compared bans on gay marriage to the long-abandoned prohibitions on interracial marriage and predicted both would be viewed by history the same way.
"When observers look back 50 years from now, the arguments supporting Florida's ban on same-sex marriage, though just as sincerely held, will again seem an obvious pretext for discrimination," Hinkle wrote in a 33-page ruling. "To paraphrase a civil rights leader from the age when interracial marriage was struck down, the arc of history is long, but it bends toward justice."
Equality on Trial adds that Judge Hinkle has issued a preliminary, statewide injuction preventing the state from enforcing the ban while the case moves forward. The decision is stayed pending Supreme Court action.
Read the ruling below:
Florida Preliminary Injunction via Equality Case Files