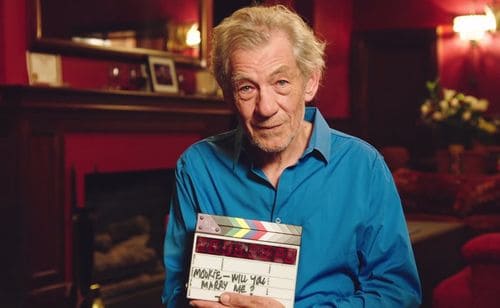 "The question of 'are we alone alone in the Universe' might be answered for one man," reads the description of Brett Lotriet Best's wonderfully sweet marriage proposal. And we can only hope his hubby, apparently a massive fan of "Star Trek," responded well, because Brett pulled out all the stops.
"We all know how you feel about 'Star Trek's' Captain Picard," says one of Brett's signs,"so I searched the galaxy for Patrick Stewart…and finally asked his best friend for help!" Cut to an adorable Ian McKellen delivering the bad news that Stewart is already married to a woman. "The good news," he adds, "is that Brett isn't married. So, think it over, do the right thing."
Aww! It is just about the happiest, most star-studded video you could watch all day. One does wonder, though, how Brett contacted the esteemed Sir Ian…
Check out the proposal, AFTER THE JUMP…
And good luck, Brett! We don't think you'll need it.