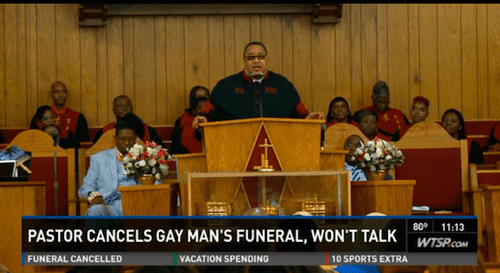 The Tampa pastor who created a firestorm last week after it was revealed he had canceled a man's funeral after discovering the man was gay and married isn't backing away from his actions, saying that the 'trials' his church is facing in the public eye have "come to make us stronger."
Florida station WTSP went to New Hope Missionary Baptist Church service on Sunday to ask Rev. T.W. Jenkins about what happened. The station was initially not allowed into the building, but were permitted to enter at a later time. In the video, Jenkins can bee seen talking about his family's well-being and thanking his congregation for their prayers.
"My family is doing fine," he said to claps from the audience. "Church family please remain focused and prayerful … and we will continue to stand on the word of God."
The Reverend and church's concern for the family of the gay man? Not so much..
Watch WTSP's reports, AFTER THE JUMP…(warning: autoplay)