Is it August already? We've been having an amazing time meeting so many of our readers and making new friends in Provincetown this summer and wanted to remind those of you who are coming in August to sign up for Towleroad's Pop-Up Gay Summer Camp at RSVPtown because we'll have special deals from local merchants, plus more tickets and summer books to give away all the way through Labor Day weekend.
And if you're in town and haven't signed up please come by our Camp Cart in front of the Crown & Anchor at 247 Commercial Street and say hi, pick up a beach bag, and have a photo taken with your friends!
Some shows of interest this month: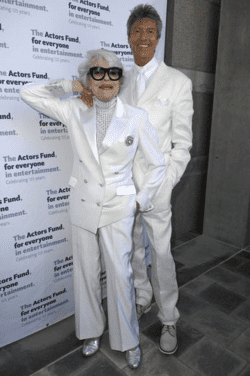 CAROL CHANNING AND TOMMY TUNE on August 7th at Town Hall Auditorium: "Two Broadway legends. One unforgettable night. Tony Award winners Carol Channing and Tommy Tune come together and make their Provincetown debut for an evening of conversation and stories. The performance will chronicle Ms. Channing's phenomenal career, moderated by Nine Time Tony Award winner song and dance man Tommy Tune. Who can ask for anything more?"
AUDITION co-hosted by DRAG RACE WINNER BIANCA DEL RIO on August 5 at Paramount Room, Crown & Anchor: "Legendary performer Kevin Aviance and drag superstar Marti Gould Cummings have descended upon Provincetown to host AUDITIONS, a new weekly talent and variety show for the Cape's most talented (and sometimes deliciously talentless) acts."
SANDRA BERNHARD on August 10th & 11th at Paramount Room, Crown & Anchor: "The Crown & Anchor is thrilled to welcome back Sandra Bernhard, in her own one-of-a-kind live show, 'Sandyland,' that sharply blends theatre, rock-n-roll and stand-up with a little burlesque & cabaret. Sandra will appear in the Paramount Room on Sunday, August 10th and Monday, August 11th, 2014, as part of her current national tour. A compelling performer who loves to engage her audience with personal provocative and deeply emotional content, 'Sandyland' is not to be missed."
LINDA EDER on August 18th & 19th at Paramount Room, Crown & Anchor: "Linda Eder's diverse repertoire spans Broadway, standards, pop, country and jazz. Her Broadway debut, for which she was rewarded with a Drama Desk nomination, sent her already rapidly rising star blazing across the sky, securing her spot as one of America's most beloved singers and dynamic live performers."
We'll be giving away tickets so sign up at RSVPtown and indicate the week you're coming to be eligible.
Special thanks to Fred Schneider's Monster Blend and Breyting Community Roaster for keeping us wired at our weekly Towleroad Pop-Up Gay Summer Camp coffee meet-ups. You all may remember Fred Schneider from the B-52s. Now he's making his own coffee. Check it out and order some here!
Out friends at the Kiehl's store (250 Commercial Street) tell us that on August 9 and 10 you can get 15% off your purchase and Kiehl's will donate it to amfAR, The Foundation for AIDS Research. This is a discount available everywhere, not only in Provincetown!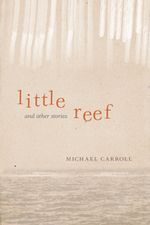 This week's featured summer reading giveaway is LITTLE REEF (AND OTHER STORIES) by Michael Carroll.
From Key West to Maine, Michael Carroll's debut collection of stories depicts the lives of characters who are no longer provincial but are not yet cosmopolitan. These women and their gay male friends are "B-listers" of a new, ironic, media-soaked culture. They live in a rich but increasingly divided America, a weirdly paradoxical country increasingly accepting of gay marriage but still marked by prejudice, religious strictures, and swaths of poverty and hopelessness. Carroll shows us people stunned by the shock of the now, who have forgotten their pasts and can't envision a future.
We're also giving away copies of CARSICK: John Waters Hitchhikes Across America by John Waters (Macmillan), THE TALKING DAY by Michael Klein (Sibling Rivalry Press), WASN'T TOMORROW WONDERFUL by Kenneth Walsh (Magnus Books), THE SNOW QUEEN by Michael Cunningham (Farrar, Straus and Giroux), PLAYING BY THE BOOK by S. Chris Shirley (Magnus Books), and JONATHAN, a journal of gay men's fiction also from Sibling Rivalry Press. Jonathan is a journal featuring short fiction by queer male writers.
Carnival Week is coming!
Sign up at RSVPtown so you won't miss anything, and make sure to indicate which weeks you are coming to be eligible for special giveaways!