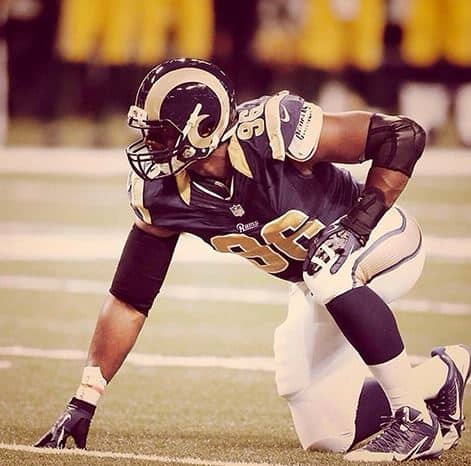 Last night's match-up between the Miami Dolphins and St. Louis Rams marked the final preseason opportunity for Michael Sam to demonstrate his prowess on the field. With a team high 5.5 tackles as defensive end, the consensus seems to be that Sam did well…but whether he did well enough to earn a spot on the team's 53-man roster will be revealed Saturday. 
NBC Sports reports:
"I'm very confident," Sam said, via the Associated Press. "I'm going to sleep really well tonight and I'm very confident I'm going to be on a team, the Rams or any other team in the NFL."
Sam has played well throughout the preseason and played well again on Thursday night against the Dolphins, leading the team with five solo tackles. Unfortunately for Sam, the Rams are deep on the defensive line and won't be an easy roster for any seventh-round draft pick to make. Sam is widely viewed as competing with fellow rookie defensive end Ethan Westbrooks for the final roster spot, and Westbrooks had a very good preseason finale, with a sack, a tackle for loss and two quarterback hits.
Outsports' Jim Buzinski points out that while Rams' head coach Jeff Fischer believes Sam "can play in this league" and should get a spot on a team's roster, Fischer's post-game comments were more complimentary towards Wesbrooks and his performance.
Buzinski also has a great breakdown of  the different scenarios facing Sam as well as his own thoughts and predictions on whether Sam will make the cut. Check out the the article HERE. 
Miami sports radio host Bruce Silverman also covered the game for Outsports. You can check out his video report AFTER THE JUMP…