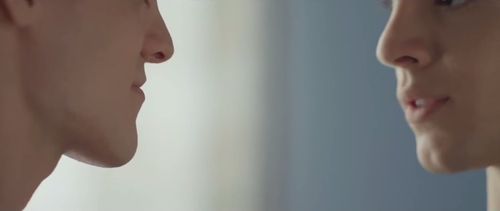 Buoyant, clever, sensitive; words can do very little to express the exuberance and authenticity of Daniel Ribeiro's near-perfect debut feature, The Way He Looks, based on his 2010 short film with the same cast and premise. The film screened this week at NYC's NewFest. A coming-of-age dramedy with a highly original narrative, the movie's title is provocative for calling into question the ways we "see" the ones we love and just how narrow our worldview may be.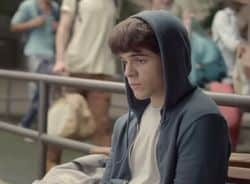 At the center of a sun-dappled, pastel-colored Sao Paulo, Brazil is Leonardo (Ghilherme Lobo, right), a teenager who was born blind and bears the brunt of several surly bullies' wrath at his suburban high school. He longs for independence from his overbearing parents "like every teenager" director Ribeiro was quick to point out at the film's talkback. His only real friend is Giovana (Tess Amorim, below left), a neighbor and classmate; they adore each other and spend every day together. Their routine is interrupted by the arrival of a cute new student, Gabriel (Fabio Audi, below right), who becomes fast friends with the pair. When Gabriel and Leonardo pair up for a school project, though, Giovana quickly becomes jealous, and the two boys grow even closer. 
It'd be a shame to give away too much more, but suffice to say that the film takes unexpected romantic turns while retaining a bubbly and heart-warming sheen. It won the Audience Award at NewFest for good reason. The applause following its screening was deafening.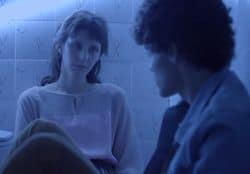 Perhaps the most engaging element of the film is the way it film negotiates Leo's blindness. We are constantly reminded that Leo cannot see the world around him, or even the people he is closest to in his life. One spooky dream sequence finds him interacting with shadowy black-and-white figures of his classmates, but otherwise the film plays with the idea that sound is Leo's most prominent sense, and that the people around him are privileged to be able to see. When he and Gabriel go to the movies, the camera lingers on their mouths as he describes what is happening on screen, and the sounds of the cheesy sci-fi film are heightened; at another point, Gabriel and Leo sneak out to "watch" a lunar eclipse, a concept which Gabriel struggles to explain to someone who has never seen one.  Leo's blindness is, therefore, a prominent plot point, one which heightens the tension surrounding he and Gabriel's relationship with Giovana and each other.
At the film's talkback, Ribeiro discussed the different vision of love that he hoped the film could present, one based not on the pretense of physical attraction and visual memory, or on fixed notions of sexual orientation. The Way He Looks is not a coming out film in any sense; the word "gay" is never used, Ribeiro stated proudly. Instead he sees it is a natural experience of romantic interest, that someone should fall in love with a person without the confines of a specific label. In this sense, Ribeiro recognized that his film is an ideal vision, though that does not mean the characters exit the narrative unscathed.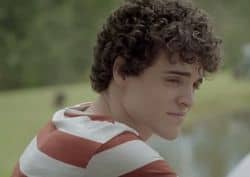 The Way He Looks deals frankly with jealousy, bullying, parent-child conflicts, and confusing sexual desires. There are tough scenes, and despite the sunny lensing and cheery outlook, every character has faults. Still, rarely have I left a theater feeling as fulfilled, or as happy to have gotten to know the characters on screen. Perhaps because the film's love story, constrained by lost sight, is the most original, sensitive, and touching one to come along in quite some time.
Watch the film's trailer as well as the original short film (which *spoiler alert* gives away the whole movie), AFTER THE JUMP…