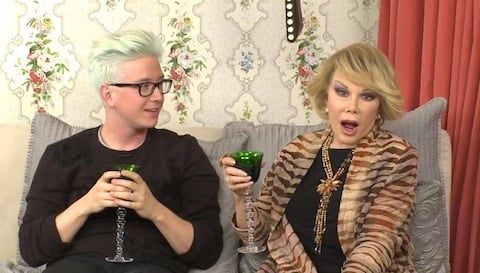 Joan welcomed gay vlogger Tyler Oakley to her 'In Bed with Joan' web series. She begins by asking Oakley if he prefers being called a YouTuber, a blogger, or a power bottom; what it was like coming out of the closet at 14, how he did it, and how he had the nerve. Oakley says his parents wanted to send him to therapy. Joan asks if he has a significant other (he doesn't) and what kind of relationships he has had; how many followers he has, and what it was like to interview President Obama. Also discussed, when Oakley lost his virginity.
She continues the questioning by asking what kind of negative comments he gets, the wildest vlogs he has posted, which member of One Direction he would choose to sleep with, and other celebrities he has met.
Oakley then quizzes Joan about gay slang – what are twinks, bears, and otters?
Joan then allows Oakley to apologize to someone, and tell someone else to "sit on it and rotate".
Melissa Rivers then hops in bed for a game.
Watch, AFTER THE JUMP…