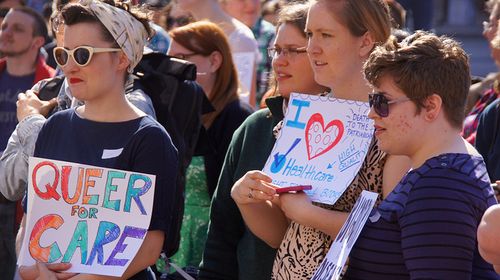 A growing number of low-income people who identify as transgender are finding that President Obama's Affordable Care Act is making it easier for them to transition. One of Obamacare's key components is the requirement that health care providers provide coverage for all people interested in purchasing policies, regardless of whether or not they have pre-existing conditions.
Previously gender identity disorder, the psychological description of a dysphoria associated with one's birth sex and assigned gender, was frequently used both to disqualify people from purchasing health plans and as a justification for denying certain forms of coverage. By making health care generally more affordable and divorcing coverage from employers, Obamacare is removing many of the barriers that trans-identified people have traditionally had to deal with
"The system isn't perfect — low-income people buying insurance through a state exchange will still have to pay monthly fees — but it's an improvement over the current setup," Transgender Law Center Project Health program manager Anand Kalra explained to the Advocate:
"[A]ll plans sold through state exchanges have to provide coverage for 10 'Essential Health Benefits,' which include, among others, preventative care, reproductive health, prescription drugs, mental health care, and treatment for substance abuse."
Increased access to a broader network of healthcare practitioners is a step in the right direction, but it doesn't address all of the infrastructural healthcare difficulties faced by the the trans-community. There are far fewer general practitioners that specialize in trans-health issues. Moreover, while insurance companies can no longer out and out deny trans-identified people coverage simply for being trans, the approval process for many  medical procedures commonly associated with trans-people can be arduous.
"It is not a simple, easy, magical surgery," Devin Payn recounted to Kaiser Health News. "Trying to do this without insurance is a big risk. Things can go wrong … not having the money to pay for it would be awful."