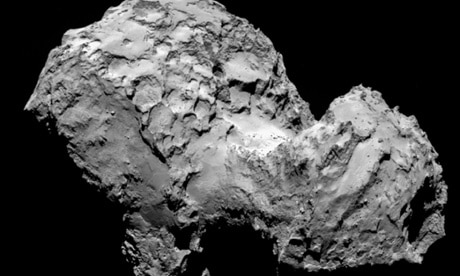 The European Space Agency's Rosetta spacecraft, having spent a decade in space, made its rendezvous earlier today with an astronomical object nicknamed the 'rubber duck' comet for its strange shape.
The Guardian reports:
The spacecraft will now track comet 67P/Churyumov-Gerasimenko for a year, following it through its closest approach to the sun to monitor how the extra heating affects the icy surface.
Nothing about this mission is ordinary, and these are no ordinary orbits. The weirdly shaped comet, which some have likened to the shape of a rubber duck, does not produce enough gravity to fully hold the spacecraft. Instead, the flight team will "drive" the spacecraft in triangular-shaped orbits, gradually lowering the altitude from today's 100km to around 30km.
One of the most audacious space missions in decades, it is designed to reveal secrets about the origin of the solar system, the origin of our home planet and even the origin of life.
Watch a Euronews report on the rendezvous, AFTER THE JUMP…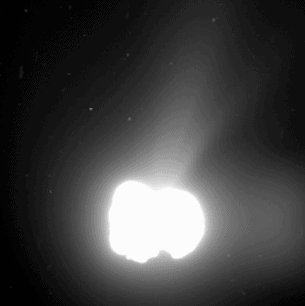 The ESA released a statement on the successful rendezvous:
Today saw the last of a series of ten rendezvous manoeuvres that began in May to adjust Rosetta's speed and trajectory gradually to match those of the comet. If any of these manoeuvres had failed, the mission would have been lost, and the spacecraft would simply have flown by the comet.
"Today's achievement is a result of a huge international endeavour spanning several decades," says Alvaro Giménez, ESA's Director of Science and Robotic Exploration.
"We have come an extraordinarily long way since the mission concept was first discussed in the late 1970s and approved in 1993, and now we are ready to open a treasure chest of scientific discovery that is destined to rewrite the textbooks on comets for even more decades to come."