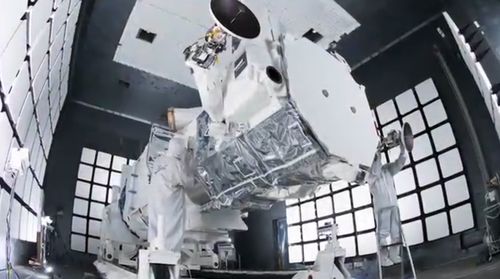 Look to the skies on August 13th and you may spot the launch of a new, high-tech satellite that will blow your mind – or send your Big Brother paranoia into overdrive. The Worldview-3 from DigitalGlobe will become the first satellite to provide public high-resolution photos of our planet, right down to the numbers on your mailbox and the grass on your lawn. Google and Microsoft, DigitalGlobe customers, will be your best bets for the high-res imagery, so look for Google Maps to upgrade in the near future.
Gizmodo reports:
Walter Scott, founder and CTO of DigitalGlobe, explains some of the satellite's other applications that are more than just skin deep:
'The Worldview-3 is going to offer the highest commercially available resolution of any satellite system out there. Combining that with the power of our constellation, which gives multiple visits per day over multiple hours of the day, means the ability to monitor what's going on and enabling our defense and intelligence customers to make decisions on the basis of fact than the basis of fear."
The Worldview-3 will operate around 383 miles above Earth, making its precise detail all the more impressive. At such high resolution, the company also says the satellite will help see through smoke and identify moisture content and other materials. DigitalGlobe will begin publicly selling images after six months of operation.
Worldview-3 will take off on August 13th at 2:30pm; you can watch it all live here.
And check out DigitalGlobe's video about the Worldview project (and some stunning images of our planet), AFTER THE JUMP…