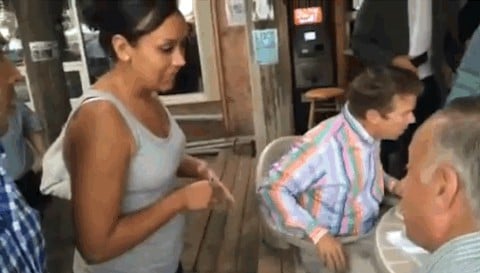 In a video which has since gone viral, Erika Andiola and Cesar Vargas — two immigration activists advocating for the DREAM (Development, Relief, and Education for Alien Minors) Act — confronted Iowa Republican Representative Steve King about his anti-immigration racism.
The video has partly become viral because it also shows Kentucky Republican Senator Rand Paul choking down the first bite of his hotdog and then running away with his beer the instant he hears that Andiola and Vargas are immigration activists. Paul supports increasing fortifications along the U.S./Mexico border but does not "think any type of immigration reform will get out of Washington that includes a path to citizenship."
In the video, Andiola hands her DACA (Deferred Action for Childhood Arrivals) card to King and offers him the chance to tear it up. The DACA card basically gives undocumented people like Andiola the ability to stay in the U.S. for two years at a time without the threat of deportation, something the Secretary of Homeland Security put into place on June 15, 2012. King voted to end the program barely a week ago.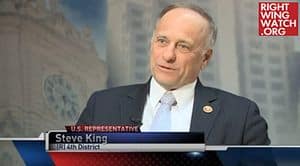 In response, King refuses, condescendingly compliments Andiola's English-speaking ability as a way to insist that she's distorting his words, and then offers the circular reasoning that undocumented people are "lawless" criminals who should not stay in the U.S. while trying to gain citizenship.
At 4:04 a man comes up and tries to tell the recorder that she's not allowed to record their conversation. At 6:30 an onlooker starts repeatedly telling them to "go home."
In 2013, King infamously said "For every [undocumented immigrant] who's a valedictorian, there's another 100 out there that weigh 130 pounds and they've got calves the size of cantaloupes because they're hauling 75 pounds of marijuana across the desert." He also supported Arizona's failed "license to discriminate" bill that would have allowed religious business owners to refuse service or employment to LGBT people.
Both openly gay Colorado Democratic Representative Jared Polis and pop singer Ricky Martin called King out for his comments.
The Huffington Post provides some of Andiola and Vargas' background:
Vargas and Andiola are prominent immigration activists and co-directors of DRM Action Coalition, a Dreamer-led group that advocates for reform. Andiola worked for bisexual Rep. Kyrsten Sinema (D-Ariz.) last year after receiving work authorization through the Deferred Action for Childhood Arrivals program, but left her job in December to fight her mother's deportation proceedings. She has been in the U.S. since she was 11 years old. Vargas, who came to the U.S. at the age of 5, passed the New York bar examination but can't fulfill his goal of practicing law in the military because of his undocumented status.
Andiola and Vargas made a follow-up video during which Andiola said that King "really showed his ignorance and his hatred toward us."
Watch the videos AFTER THE JUMP…