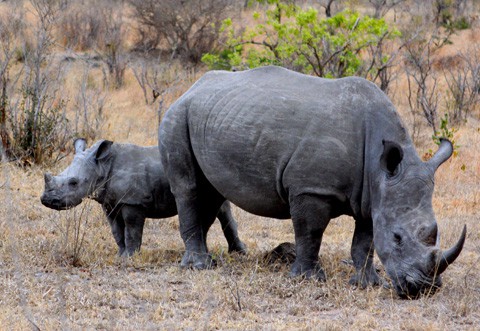 The South African government has announced it will relocate as many as 500 rhinos form the Kruger National Park, a large nature reserve comparable in size to Israel or Wales and home to 8,400 white Rhinos. As the BBC reports, the move comes as illegal hunting of Rhinos has risen dramatically in the last seven years: 
South Africa is home to more than 80% of Africa's rhinos. Illegal poaching has risen sharply from 13 in 2007 to 1,004 in 2013.
Environment Minister Edna Molewa said the relocations from the Kruger National Park, coupled with the creation of "rhino strongholds", could "allow the total rhino population size of South Africa to continue to grow."
"South Africa, with its large rhino populations, has borne the brunt of rhino poaching. We remain confident that our efforts in implementing the integrated strategic approach will build on our successful track record of conserving rhino," she said.
South Africa's rhinos are primarily being hunted for their tusks. And though the trading of rhino horn has been against international law since 1977, the black market continues to thrive as demand for rhino horn is still high in some Asian nations.  
Other poachers seek to kill African rhino merely for the "sport" of it.
(Photo by Andy Towle)