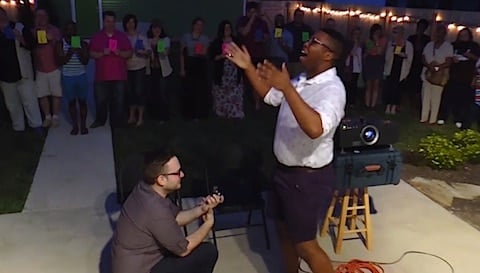 Towleroad reader Matthew C shares the video of his surprise proposal to his boyfriend TJ, and it is sure to have you reaching for the tissues.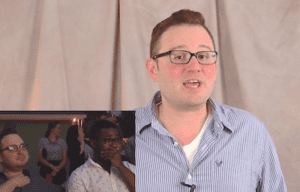 Writes Matthew of the set-up:
I had my friends convince my boyfriend TJ to throw me a surprise birthday party, including a funny birthday "roast" video projected on the side of our house.
At 6:50 I hijack the video and at 8:35 you can see that TJ finally realizes what is going on. 11:00 marks where TJ spots his Grandma / family that we snuck into the party while everyone was focused on the video.

It was a perfect night!
Check out the emotional proposal, AFTER THE JUMP…
Don't miss our other recent gay wedding and proposal videos…
Gay Marriage Proposal of the Day: Michael and Michael [tlrd]
Gay Marriage Proposal of the Day: Jason and Daniel [tlrd]
Gay Marriage Proposal of the Day: Lucas and David [tlrd]
Gay Wedding Video of the Day: Jonathan and Dwayne [tlrd]
Gay Marriage Flash Mob Proposal of the Day: Patrick and Mike [tlrd]