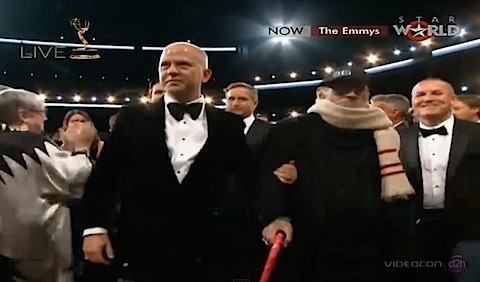 The Normal Heart took home the award for Outstanding Television Movie at the 66th Primetime Emmys tonight. 
Director Ryan Murphy accepted the award – joined on stage by Mark Ruffalo, Matt Bomer, Jim Parsons, Julia Roberts, and Larry Kramer (wearing his ACT UP hat no less!)
Said Murphy:
…We're going to use the rest of our time to ask young people watching to become Larry Kramers. To find a cause  you believe, that you will fight for, that you will die for. Go online and look up amfAR look up the Elizabeth Glaser Pediatric AIDS Foundation. This is for all of the hundreds of thousands of artists who have passed from HIV/AIDS since 1981. Your memory and your passion burns on in us. And this is for them. Thank you. 
Watch the full acceptance speech AFTER THE JUMP…