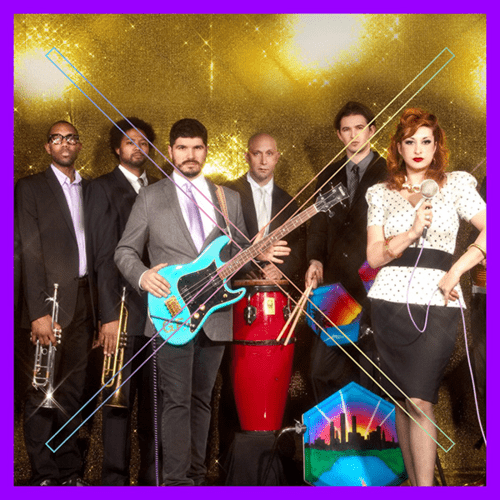 BY OCCUPY THE DISCO / TAD HAES
Our love for Midnight Magic, Brooklyn's most prolific disco ensemble is unparalleled. Their live performances are, for the lack of a better word, epic, with lead singer Tiffany Roth's electric personality that can light up the entire room.  Their songs keep the lush spirit of orchestral disco alive, via their 9-piece band that spans different styles of disco and funk.
Midnight Magic: 'Night Flight'
 The band has new material soon to be released, a 5-track EP that will soon be out on Soul Clap Records. The lead single, 'Night Flight,' is already available and while it may feature slower beats than one would expect for the dancefloor, don't be fooled: it still can move hips and shake bodies like many tracks can't. 
More new music AFTER THE JUMP… 
Kraak & Smaak's 2013 album Chrome Waves is still giving out great vibes with the Blende remix of 'Just Wanna Be Loved,' which features Joi Cardwell on the vocals (who recently did a lovely performance at DJ Lina's TBS at Sip N'Twirl on Fire Island).  Josh featured a disco mix of this song back in October, but this remix will come out next month but is already available in full for preview.
House music legends Full Intention and Robert Owens came together to grace us with a new track, 'Let Me Be.' Expect serious bass, soulful melodies, piano riffs and plenty of energy.
Back in January 2013 during an interview for Pitchfork, Robyn mentioned her appreciation for Kindness and Mark E, two artists I absolutely love. This year we finally see a collaboration between the moguls, with Robyn's latest single (together with Röyksopp) being remixed by both Kindness AND Mark E.
Brazilian duo Digitaria are on the rise with the release of their brand new full length work, Night Falls Again, on Hot Creations. Having had the chance to experience the duo's early steps 10 years ago in our shared hometown, it's exciting to see them become so popular for the past year. 'Shopping Centre Soundtrack' is a highlight in the album, focusing on deeper and darker moods.
Totally Enormous Extinct Dinosaurs is following the extreme success of his debut album from 2012 with a collaboration with OXD favorite Anna Lunoe. 'Feels Like' has me hooked on its tech house dry beats, ethereal breaks and, of course, Lunoe's angelical voice.
Ney Faustini's new track 'Talk Less Say More' gets a rework by one of my new favorite producers, ROTCIV. Originally from Brazil and based in Berlin, ROTCIV has a grasp for infectious and groovy sounds, as one can tell with this remix.
OCCUPY THE DISCO (OXD) curates and recommends music events to the gay community in NYC—in an effort to move the focus of the nightlife scene beyond the promoter and venue and to the music itself. OXD's goal is to educate, entertain, engage and empower the gay audience to reclaim their ability to question and experience the unknown. The OXD Mirror will serve to showcase tunes that are definitely off-the-beaten-path but rightfully deserve the attention of the gay ear.
Follow us on Spotify!  Subscribe to our 'As Seen on Towleroad Playlist to listen to tracks posted from past weeks. For more information on OXD, check out our website and accompanying blog at www.occupythedisco.com, like us on Facebook, or follow us on Twitter: @OccupyTheDisco.