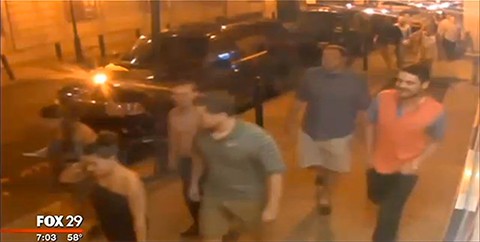 Arrest warrants have been issued for three individuals accused of savagely attacking a gay couple in Philadelphia's city center on September 11. ABC 6 reports:
The accused are Philip Williams, 24, Kevin Harrigan, 26, and Katherine Knott, 24, all of Bucks County, according to the Philadelphia District Attorney's Office…
Each will be charged with aggravated assault, simple assault, recklessly endangering another person and criminal conspiracy…
The two victims suffered serious facial injuries. They claim they were targeted for being homosexual and savagely beaten.
Persons of interest being interviewed by police last week claimed it was a mutual fight, sources told Action News.
Also last week, the Archdiocese of Philadelphia released a statement acknowledging that several former students of the Archbishop Wood High School in Warminster, many 2007 graduates, are suspected in the attack.
The assault cannot be prosecuted as a hate crime because Pennsylvania does not currently have a hate crimes law on the books that specifically protects LGBT citizens. Looking to change that, state lawmakers held a rally today in Harrisburg to introduce and drump up support for new hate crimes legislation. Rep. Brian Sims spoke out, blasting lawmakers for not acting sooner. State Sen. Jim Ferlo, who authored the new bill, also took the opportunity to publicly come out.
District Attorney Seth Williams spoke out about the atrocious crime. From NBC 10:
"I would like to thank the police for their thorough investigation and the public for the outpouring of information and tips in this case," said Williams. "This vicious attack shocked the entire country. An assault on people because of their sexual orientation has no place in Philadelphia."