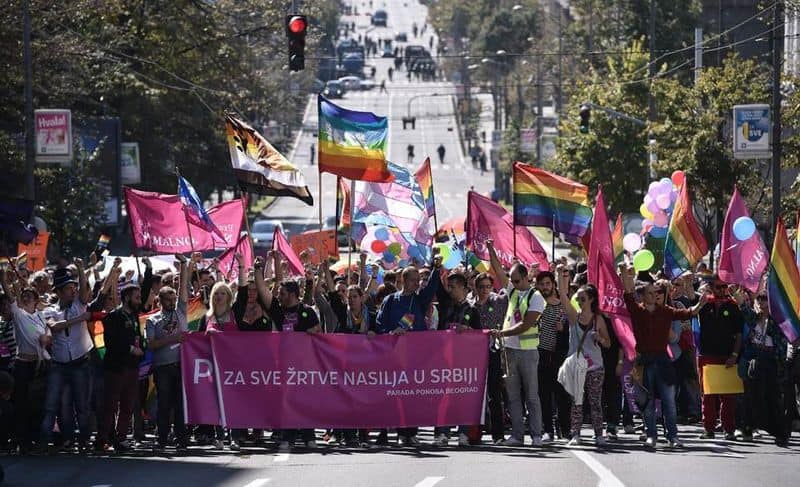 Gay Pride parades in Serbia have a violent past. The last one, which took place in 2010, was viciously disrupted by anti-gay protesters and resulted in over 100 injured people. Each subsequent year since, government officials have canceled the event, mostly citing security risks as the primary reason.
Pride returned to that country today, taking place in the capital city of Belgrade. The BBC reports that the march transpired almost completely without incident.
Participants marched through the centre of the city to the National Assembly, where ambassadors from numerous European countries addressed the crowd. "I feel phenomenal. Our efforts of the past three years have borne fruit," organiser Boban Stojanovic told Reuters news agency.

On Saturday evening, anti-gay rights campaigners demonstrated in the capital in anticipation of the Gay Pride march on Sunday. But the influence of the far right has declined in recent years, our correspondent says, and several government ministers have spoken in favour of the march.
According to the AP, several anti-gay protesters did try to unsuccessfully interrupt the peaceful march, though they were thwarted by the thousands of police on the ground who were quite prepared to protect the participants. 
Skirmishes were reported between small groups of extremists and police during and after the march, with soccer hooligans attacking liberal B-92 radio and TV station with flares and smoke bombs. Two policemen were injured, the station said. Also, the hooligans set one public bus on fire with flares, police said.

Water cannons, armored vehicles and riot police blocked traffic on the route of the march amid threats of attacks from extreme nationalists, as Serbia tried to show it respects human rights of all of its citizens as it seeks European Union membership.
A large-scale anti-gay march organized by the right wing group Dveri took place in Belgrade last night. In Serbia News reports on the event, which drew 5,000 people:
Before the beginning of the protest, [Dveri leader] Vladan Glisic told reporters that the campaign of "Dveri" was alerting the public "to make people understand that the story of the gay parade is not the story about human rights". Glisic said that this is not "a homophobic protest, but protest against LGBT activists who are trying to impose a totalitarian ideology in our schools and homes and put us into a situation where family values are no longer the main values in Serbia". At the start of the official part of the protest Serbian national anthem "Boze pravde" was played.
Watch an AFP News report on the Pride parade which includes a short interview with the mayor of Belgrade, Siniša Mali, who was in attendance himself, AFTER THE JUMP.