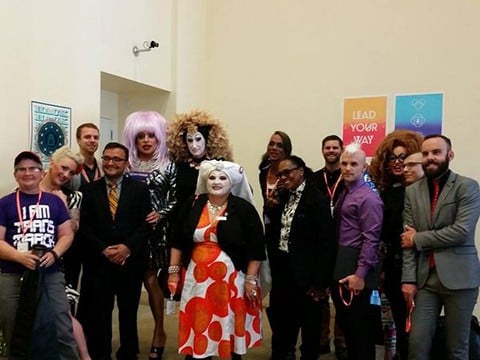 After the social network begin enforcing its 'real names' policy, requiring that all users go by their legal name online, drag queens who found their accounts shut down were in an uproar and successfully set a meeting with Facebook to discuss the policy. That meeting, also attended by openly gay member of the San Francisco Board of Supervisors Rudy Campos, took place today and did not result in any change on Facebook's part. The AP reports:
Facebook said it will keep the accounts active for two weeks so people can decide whether to provide their real names.
Several drag queens and Supervisor David Campos said at a news conference at San Francisco City Hall that they are disappointed that Facebook didn't change its policy after the two sides met for about an hour Wednesday. Campos said Facebook has agreed to another meeting.
According to The Bay Area Reporter, Campos also added, "After an hour of discussion, we have yet to hear from Facebook they agree the policy is wrong."
Meanwhile, Sister Roma, one of the most vocal drag queens who has been opposing Facebook's policy, said she was ready to mount a large-scale protest if necessary, saying, "We're always ready to go." For the drag queens and for Mr. Campos, Facebook's policy represents a real danger for many at risk minorities:
"They're claiming they're trying to create a safe environment," but [Roma] and others have heard from people who have escaped abusive spouses and "the only outlet they have is through Facebook."
[Heklina] said safety is a concern for her. "I have crazy family members" who she doesn't want to be able to find her. […]
Advocates said that LGBT employees at Facebook have been pushing their cause, and Roma said, "There are people on both sides of this issue within the company." […]
"This issue is way bigger than a bunch of drag queens complaining because we can't use our stage names," Roma said in a news release. "This policy is discriminatory and potentially dangerous to a variety of Facebook users, including abused and battered women, bullied teens, political activists, sex workers, and especially members of the transgender community; all examples of people who use pseudonyms to ensure their safety and privacy." 
(Photo via Twitter)