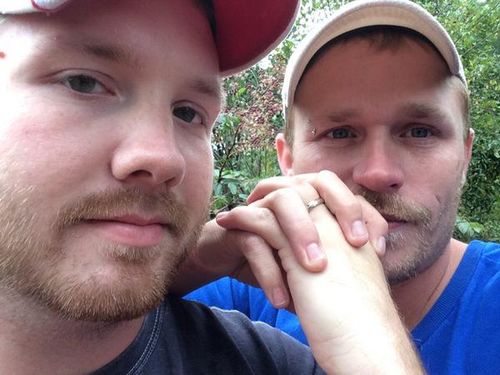 Lee Thompson (aka Honey Boo Boo's Uncle Poodle) is engaged to his boyfriend Alan, he announced on Twitter and Facebook last week.
Tweeted Thompson along with the above pic:
"To answer questions about this pic YES! Alan and I fact Engaged! I proposed to him this past weekend and he said YES!"
Since becoming well-known on his precocious niece's reality show, Thompson has spoken out for gay rights and against bullying and also came out as HIV-positive.
Said Thompson, who has been married to a man at least once before, in 2012:
"I'm gay, but I'm as redneck as I can get. If you want people to accept you, you have to show you don't have a problem with yourself and just be up front about who you are. If you do, you earn people's respect. If everybody would just go on and do that, ignorant people couldn't cause so many problems. I know this is how I was born and I don't need to explain it to anybody. I live my life for who I am. That's why 'Born This Way' is gonna be my next tattoo."
Thompson spread the news on the same day that Honey Boo Boo's Mama June and Sugar Bear announced their decision to split.