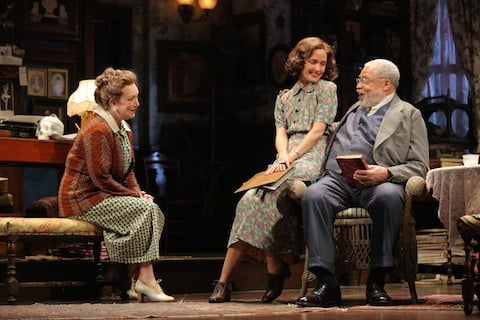 BY NAVEEN KUMAR
Airy, quaint, sugary sweet and a little bit magical—if ever a play could be perfectly likened to cotton candy, it would be director Scott Ellis' light-footed revival of You Can't Take It With You, which opened on Broadway Sunday at the Longacre Theatre. Its sprawling and gifted cast, led by a dynamite trio of comediennes—Kristine Nielsen (Vanya and Sonia and Masha and Spike), Annaleigh Ashford (Kinky Boots), and Rose Byrne (Bridesmaids)—recalls a fine-tuned circus act, spinning into animate life a stock roster of old-timey characters.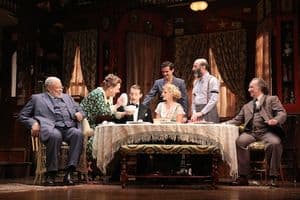 Deploying more than a dozen players over its swift three-acts, Moss Hart and George S. Kaufman's 1936 Pulitzer Prize-winning comedy is Depression-era escapism at its most cheerfully saccharine.
Three generations of an outlandishly eccentric New York clan follow their own pursuits under one roof—Penelope (Ms. Nielsen) writes (though never seems to complete) plays, her daughter Essie (Ms. Ashford) dances (often to her own tune) and makes candy, Penelope's husband Paul (Mark Linn-Baker) manufactures fireworks in their basement, while the family's grand-patriarch, Martin Vanderhof (James Earl Jones) likes to attend commencement ceremonies, play darts and evade income tax.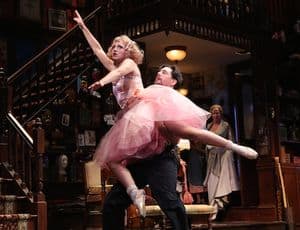 The family's primary shared trait is a particular optimistic ineptness: None of them really excels at what they do and not one of them gives a hoot. Affluence makes all this possible, and there's a devil-may-care about the world outside their walls that shapes the family's myopic, decidedly non-capitalist take on the American dream (the "it" in the title is money).
That is until their daughter Alice (Ms. Byrne), the only one with a real-world job, falls in love with Tony (Fran Kranz), a wealthy boy from a "nice" family and the heir to the Wall Street firm where she works. Planning a future with Tony means introducing their families, a prospect that rightfully terrifies her and makes up the bulk of the story.
Ellis keeps the play's many gears turning smoothly across David Rockwell's meticulously cluttered set (which itself spins too, of course), and the kooky family's bond is deeply felt, even as they seem to be orbiting each other on different planets. Every member of the big ensemble delivers his or her own singular brand of funny, including Patrick Kerr as Paul's pyrotechnic sidekick and Julie Halston as the blissfully drunk actress Penelope hopes will read her play.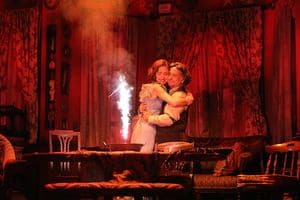 The ease and sweetness that Ms. Byrne brings to her roles onscreen fit perfectly here, as does her instinctive comic timing. An experienced stage wit, Ms. Nielsen packs a scene's worth of laughs into a single word of dialogue, and Ms. Ashford's physicality alone makes her every moment onstage a complete riot. Jones brings a buoyant charm to the head of the family and his rich, deep baritone lends some weight to the conclusion's pat moralizing. (Do what makes you happy, the rest is hogwash.)
While we may be in no less need of escape than audiences in 1936, whipping up decades-old humor into a fresh, frothy confection isn't easy—this production makes it seem all but effortless, leaving you with a grin that's sticky-sweet.
Recent theatre features…
Mia Farrow and Brian Dennehy Open 'Love Letters' on Broadway: REVIEW
'Bootycandy,' Brassy Comedy About Black, Gay Experience, Opens: REVIEW
Michael Cera and Kieran Culkin Open in 'This Is Our Youth:' REVIEW
Andrew Rannells on 'Hedwig and the Angry Inch:' INTERVIEW

Follow Naveen Kumar on Twitter: @Mr_NaveenKumar (photos: joan marcus)