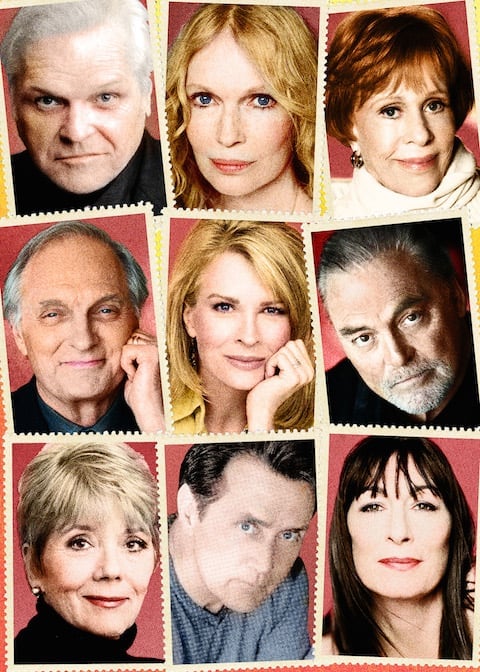 BY NAVEEN KUMAR
If you have any doubts that a play with two actors sitting behind a table, scripts-in-hand, can capture the imagination, you can check them at the door of Broadway's Brooks Atkinson Theatre, where a charming revival of A.R. Gurney's 1988 epistolary romance Love Letters opened Thursday night. In the hands of stage and screen vets Brian Dennehy and Mia Farrow, the story of two people trading their lives in letters is sweetly engaging, often hilarious and ultimately moving (if a bit sentimental).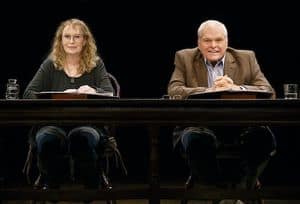 A finalist for the Pulitzer Prize for Drama, Gurney's play is a draw for busy, big-name actors, given its simple format. The current revival, directed by Gregory Mosher and scheduled to run through mid-February, will welcome Carol Burnett, Angelica Houston, Alan Alda and Martin Sheen among others, with different actors rotating in every few weeks.
Andrew and Melissa begin the play as neighborhood kids exchanging short missives that sound much like passed notes in class. It's mid-1930s New England and both are from well-off families who ship them to boarding schools. As they grow into teenagers and young adults, their relationship becomes something of an awkward long-distance romance between best friends. Melissa is precocious and artistic, often including sketches in her letters alongside complaints of how she loathes writing them. Andy, on the other hand, comes alive with pen in hand and loves nothing more than composing personal messages and to no one more than Melissa.
As correspondence between the two multiplies, the play offers a broader meditation on the nature of personal connection. Entering their college years, Andy and Melissa reach a point where they feel they know each other better on paper than in person. Replace their handwritten notes with emails, texts and OKCupid messages, and the question that sits between them has seldom seemed more relevant. How do we communicate ourselves in words, and what sort of substitute is disembodied text for proximity? Or intimacy? Also: Why hasn't he texted me back?!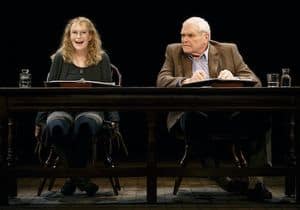 Ms. Farrow brings a saucy vulnerability to her performance that's a pleasure to watch, particularly during Melissa's years as a flippant and often foul-mouthed teenager. A well of emotions never seems far from the surface, however tough an exterior Melissa may present in her letters—as when she makes a throwaway remark, for example, about being sexually abused by her stepfather. As Melissa grows into an increasingly hapless woman, Farrow brings a harried desperation bubbling to the surface.
Mr. Dennehy has a stalwart presence that fills the stage even as he sits still. Though necessarily less expressive in his performance than Ms. Farrow, the celebrated Broadway regular gives solid yet sensitive voice to an upstanding, openhearted and loving man with a knack for words and a candle burning for his errant companion.
While Gurney's play is inventively simple and a joy to watch, the dusty gender norms it leans on in the end betray its age. Ultimately, it's Melissa's life that falls apart, while Andy enjoys a successful political career and a stable family. The play's final moments also take a self-consciously sentimental turn that teenage Melissa, particularly, would find hard to swallow. But outdated sentiments are a fixture of every old letter, and that doesn't make them any less transporting.  
Recent theatre features…
'Bootycandy,' Brassy Comedy About Black, Gay Experience, Opens: REVIEW
Michael Cera and Kieran Culkin Open in 'This Is Our Youth:' REVIEW
Andrew Rannells on 'Hedwig and the Angry Inch:' INTERVIEW
David Byrne and Fatboy Slim Musical 'Here Lies Love' Returns: REVIEW
Follow Naveen Kumar on Twitter: @Mr_NaveenKumar (photos:carol rosegg)